Game Of Thrones Season 6: Why George R.R. Martin Won't Write An Episode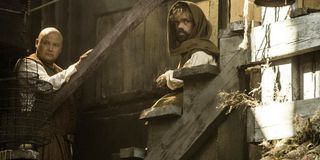 To all the Game of Thrones fans who are growing ever-impatient awaiting the next book in the A Song of Ice and Fire book series, The Winds of Winter, you may not believe this assertion, but it seems that author George R.R. Martin is actually BUSY these days with his WRITING. In fact, he is apparently so busy that he recently cancelled a bunch of convention appearances, and the latest evidence of his full plate manifested with the news that Martin will break a habit by not writing any episodes for Season 6 of Game of Thrones. So, why did the Literary God of Death just tell Season 6 "not today?"
Game of Thrones Season 6: What We Know So Far (opens in new tab)
In the announcement, which comes by way of George R.R. Martin's blog, the author emphatically insisted that his work on The Winds of Winter, along with several other projects (including a burgeoning production company), would occupy his time too greatly to work on the show next year. As Martin reveals...
The author would also clear the air regarding out-of-control rumors in the wake of his withdrawal from a number of convention appearances, assuring fans that he still plans to keep commitments to most of his upcoming events, especially for ones in which he is the guest of honor. Yet, Martin would emphasize that the writing that he's doing is "all on" The Winds of Winter, which he has said he really would like to finish by 2016.
Game Of Thrones: Jon Snow's Fate, According To Kit Harington (SPOILERS!) (opens in new tab)
Clearly, withdrawing from Game of Thrones Season 6 was not an easy decision for Martin, since, as an author, there is certainly a desire to at least help steer the course of the television manifestations of his book creations. Yet it has already been confirmed that the show, at its current rate, will actually have the distinction of passing the rollout of events in the Ice and Fire mythos of the books, last covered in 2011's A Dance with Dragons. So in a dynamic steeped in irony, the television show, which so many book readers in the past had famously spoiled, will now serve as potential spoiler material for the book series from which it was inspired. However, showrunners David Benioff and D.B. Weiss have been well-apprised by Martin himself regarding the specifics of plot points covered in The Winds of Winter.
Yet, purists may not want to despair about the breadth of the spoilers, since stark (heh, heh) storyline differences are ahead and there could be plenty more existing (and possibly original) material for the show to cover. Benioff and Weiss have recently hinted that the show may actually utilize some of the numerous plot points from the previous books that, up until now, were overlooked. Plus, over the last few years, Martin has been sporadically publishing chapters of the new book on his blog, revealing a bit of the post-Dance fates of Tyrion Lannister, Arya Stark, Theon Greyjoy/Reek, Barristan Selmy and Arianne Martel (who will not be in the show). Also, when you consider that the continuation of Bran Stark's story will be relegated to Season 6, you get the sense that the post-book spoilers will not be too plentiful that year.
Game of Thrones: Lena Headey Used A Body Double For Cersei's Walk (SPOILERS) (opens in new tab)
With Martin's energies now mostly devoted to The Winds of Winter, we could hopefully get the next novel at a time before the show spills most of its important plot secrets. In the meantime, you can further prepare yourself for "winter" when Game of Thrones premieres Season 5 on Sunday, April 12 on HBO.
Your Daily Blend of Entertainment News
Your Daily Blend of Entertainment News
Thank you for signing up to CinemaBlend. You will receive a verification email shortly.
There was a problem. Please refresh the page and try again.