This Guy Has Way More Harry Potter Stuff Than You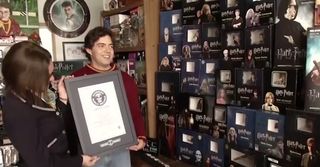 There's more than one way to participate in a fandom, as fanatics the world over likely know. Some participate in cosplay, others write fan fiction. And some people collect, as is the case for this Mexican Harry Potter fan, who's accumulated so much Harry Potter paraphernalia, he's made the Guinness World Records.
According to the Associated Press, Menahem Asher Silva Vargas, a 37-year-old attorney from Mexico City, has received a certificate from Guinness World Records, acknowledging his impressive collection of Harry Potter memorabilia, which amounts to more than 3000 individual items, and has surpassed the previous record (807 items) by a substantial margin. His collection includes figurines, trading cards, wands, clothing and accessories. Get a better peek at this guy's Potter loot in the video below:
That's a lot of Potter stuff. In fairness though, the guy's been a fan for fourteen years, and he's been collecting for that long. Between the books and the films, there's been no shortage of Harry Potter merchandise, and that isn't likely to change anytime soon, especially when factoring in the anticipated Fantastic Beasts and Where To Find Them films. So this man's collection could conceivably continue to grow even bigger over time. Engorgio!
As a Harry Potter fanatic, I'm not the person to pass judgment on any fan's law-abiding methods of expressing their obsession for J.K. Rowling's series. In fact, my inner Potter geek would love to see a full list of everything he has in his collection. I'm also curious to know how much this fan spent on all 3,097 Harry Potter items total, and how much value any of it might have accrued already over the years. Of course, with his expressed level of enthusiasm, it's hard to imagine he'd be interested in selling any of it off anytime soon. In the meantime, Menahem Asher Silva Vargas holds his own place within the Harry Potter fandom. Will someone beat his record anytime soon?