Hasbro Announces New Female Transformers Team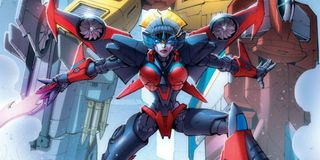 The Transformers fans have spoken! The Transformers are getting more diversified thanks to a new team of toys, first revealed in the comic book series Transformers: Combiner Hunters.
According to USA Today (opens in new tab), Hasbro will introduce the new female Transformers named Victorion into the Transformers universe this July as a result of a recent fan poll. Victorion is comprised of six different "combiner" Autobots—remember, those are the good guys—who are likely to each have their own unique skills and personalities, something that Hasbro has always strived for with female characters. Senior Manager for Hasbro's Transformers toys, Sarah Carroll explains:
This new female team of Transformers are yet another step forward for the toy/movie/comic-book franchise even though there have always been female Transformers. In the male-dominated Transformers comic/toys/shows/movies, it was important to Hasbro to not abandon the desires of the growing female fan base. That's why they created the contest to get fans more involved in the creation process. Sarah Carroll continued:
Mairghread Scott, a writer for the Cartoon Network series Transformers: Robots in Disguise as well as IDW's Transformers: Windblade comics, agrees, adding that the presence of female Transformers is extremely important not only for newer fans, but also for older fans. She particularly references the 80s generation of fans who are now adults and perhaps have children who are now fans of Transformers. Those dads and moms are likely just as interested—if not more—in strong characters like Victorion.
The Autobots that make up Victorion may be the most recent female Transformers join the Hasbro family, but they are certainly not the first. They merely are following in the footsteps of their female predecessors such as Solus Prime, Arcee and new-comers Windblade and Strongarm.
Your Daily Blend of Entertainment News
Thank you for signing up to CinemaBlend. You will receive a verification email shortly.
There was a problem. Please refresh the page and try again.