Man's Obituary Blames Altercation With Batman As Cause Of Death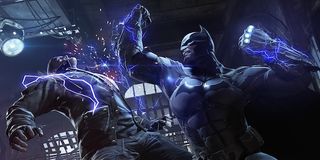 It is a well-known fact that Batman does not kill his enemies. But like the KGBeast, Mad Monk, Darseid and numerous gangsters in Detective Comics vol. 1, he once in awhile finds himself the central figure in the death of another. While few can legitimately claim "death by way of Batman," a recent man's obituary indeed made just that claim.
Stephen Merrill, a 31-year-old Lego-land retail sales clerk recently passed away after an altercation with Batman. Don't believe me? Check out his below obituary, which clearly states he met his demise after a fatal punch delivered by none other than The Caped Crusader himself.
Although Batman normally squares off against only the most evil and villainous of characters like Hush and The Joker, I guess once in awhile he lets a good one slip through the cracks. The loving son of Larry Ronald and Bridgett I. Dotson Merrill, brother of Kimberly, fiancee to Stephanie Vella and father to little Noah was clearly "that good one." Even Bruce Wayne, probably racked with guilt, publicly stated his "deepest condolences."
According to Gawker, it was Merrill's close friend Brandon Moxam who came up with the initial idea of the Batman story due to a lack of an official cause for Merrill's sudden death. His comic suggestion was such a big hit with his good buddy's family and close friends that his father Larry immediately gave his blessing, saying:
This is only the latest obituary to call ties to the comic universe. Three months ago a self-proclaimed "comicbook aficionado" named Aaron Joseph Purmort revealed (through his own obituary) to his family, friends, and the world at large) that he indeed was Spider-Man. Not only that, he took things to the next level, calling his son Ralph into action to avenge his father's death. That leaves only one question with regards to the Merrill/Batman case: Will little Noah assure that justice prevails?
As humorous as Merrill's obituary is, it's also an example of family and friends finding a way to smile in the face of grief. With that in mind, our thoughts go out to the loved ones of Stephen Merrill in their time of loss.
Your Daily Blend of Entertainment News