Suicide Squad: Jared Leto Bulking Up To Play The Joker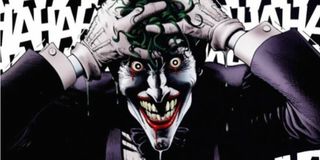 Jared Leto's impending performance as The Joker in Suicide Squad is one of the most furiously debated movie-topics discussed across the world wide web. It's almost universally agreed that Leto was the right choice to play the villain, but there is a huge amount of intrigue over how he might do just that. And now we've got our first few details about how he'll look as The Joker.
According to Billboard's cover story, via The Hollywood Reporter, which will hit shelves on Friday, Jared Leto is looking to gain quite a bit of podge for the film. In fact, Leto is so intent on gaining a large amount of weight for Suicide Squad that he even gorged while his discussion was taking place. "Do you mind if I eat a little?" he politely asked his interviewer, before he then devoured several vegan tacos. "I'm trying to gain a lot of weight. It means I have to eat every couple of hours – and I'm terrible at eating a lot." Those of us who do enjoy eating a lot will now be simulating the tiniest violin playing the saddest song in the world for the actor.
Also, vegan tacos? Get some proper grub inside you, son. Something with parents, that bled to death. Then you'll quickly turn into Roseanne-era John Goodman. The fact that he lives a vegan lifestyle and is a huge advocate of animal rights means that he'd obviously have a massive problem with doing that though, so he should probably just ignore my ignorant advice.
Anyway, moving back onto the topic at hand, Leto also explained why he was enticed to play The Joker:
And while some people might take umbrage with Leto comparing The Joker to a Shakespearean character, there's no denying the fact that the legendary foe has now developed into one of the most recognizable and iconic individuals in cinematic history.
What makes him even more unique is that each incarnation has been uniquely different to the last. Cesar Romero's Joker was campy, almost innocent, but still deadly, Jack Nicholson's had a stern terror that was masqueraded by outlandish, jovial stunts, while Heath Ledger's was a tornado of evil that was as random as he was meticulous and constantly erupted with surprising acts of unspeakable villainy.
In other words, the Oscar-winning actor has big shoes to fill. But it's refreshing to hear an actor speak about tackling such a high-pressure role, like The Joker, with excitement rather than dread. And by the sounds of things Leto is already well aware of how he'll take on the part, and how he'll make his version unique. We'll found out how he does just that when Suicide Squad hits cinemas on August 5, 2016.
Your Daily Blend of Entertainment News
Thank you for signing up to CinemaBlend. You will receive a verification email shortly.
There was a problem. Please refresh the page and try again.