Naomi Campbell Was Just Convicted Of Assault In Italy, Get The Details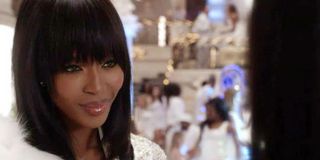 Supermodel Naomi Campbell is no stranger to the court of law. The 45-year-old triple-threat has done her fair share of threatening over the years, and this time around, an Italian court is taking a stand. Back in 2009, Campbell hit a Italian paparazzo with her purse, and ended up scratching his eye. It was her fourth instance of assault, and now, a Sicilian court has deemed the incident an act of assault, convicting Campbell with the sentence of six months suspended prison.
According to British publication The Telegraph, the incident occurred in August 2009 when Naomi Campbell and then boyfriend Vladimir Doronin arrived in the Sicilian island of Lipari (via yacht of course) when photographer Gaetano Di Giovanni took several photos of the couple as they walked through the narrow streets. Campbell's move? She took her handbag and hit the photographer, something maybe she has gotten away with in the past (what with her history of assault and all), except this time around it ended up scratching the photographer's eye, causing a fairly serious injury which required medical treatment and days of recovery.
During trial back in 2013, Di Giovanni said that he was just starting to take some shots of her and "did not expect such a violent reaction". The model's lawyers of course reached an agreement with the photographer (a.k.a. paid him a lot of money) so that he would withdraw charges, but the prosecutor ordered the trail to move forward in the public interest because of the gravity of charges against her.
The verdict has now been reached, and it finds Campbell guilty, sentencing her to a six-month suspended prison sentence. A suspended sentence doesn't mean that the supermodel will be going to jail anytime soon, but it will most likely mean she'll have to complete community service or some sort of anger management course without any incidents occurring in the next six months. There has not been any comment due to the legality of the matter from Campbell, but her lawyer has stated that they will be appealing the ruling, but can not further discuss the matter.
Naomi Campbell has been convicted on assault four times now. The last in June 2008, the actress plead guilty after kicking and spitting on two police officers at Heathrow Airport following an argument about lost luggage. She was sentenced community service hours and paid a fine. But after years of employees, associates, and other individuals coming forward with accusations, you would think she's come past just receiving a slap on the wrist. What will happen if another incident occurs while the supermodel is on probation though, we'll see.
Your Daily Blend of Entertainment News
Your Daily Blend of Entertainment News
Thank you for signing up to CinemaBlend. You will receive a verification email shortly.
There was a problem. Please refresh the page and try again.