Nude Pics Of Scarlett Johansson Leaked Online, FBI Investigating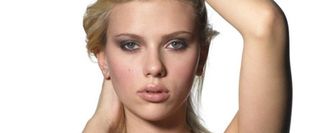 The FBI is currently investigating a scandal involving yet another celebrity who's had some naked pics of themselves leaked online. This time it's Scarlett Johannson, and since the somewhat blurry self-portraits of her bare behind and breasts appeared on Buzzfeed Wednesday, the story and the not-safe-for-work pictures have spread across the internet like a wicked hot STD.
The actress has sought the help of the FBI in the matter, which stems from the big bust (pun maybe intended) authorities made back in March when some 50 celebrities had their cell phones and email accounts hacked and stripped of their tawdry contents. They managed to catch the alleged hacker, but expecting the stolen contents to just disappear would be a little naive. Almost as naive as celebrities thinking they can safely store nude pictures of themselves on a device that's connected almost constantly to the internet.
High School Musical star Vanessa Hudgens was another victim of the same hacker earlier this year, so it seems the two ladies have reason to console one another. We only ask that they take pictures.
Your Daily Blend of Entertainment News