Parents Complain About Ex-Porn Star Sasha Grey Reading To Kids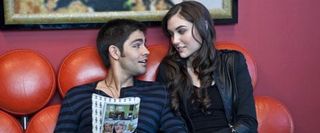 Spurred by a role on the hit HBO series Entourage in 2010, porn star Sasha Grey has worked pretty hard to change her image into that of a hard-working and more serious actress. Last year she played in a little-seen Thomas Jane movie, I Melt With You and she's scheduled for the Linda Lovelace biopic, if that movie ever gets the show on the road. Outside of acting, the actress is trying to improve her image through some highly public charity work, but as it would seem, there are some parents who don't like it.
On November 2, Grey headed to Emerson Elementary School in Compton, Ca to participate in the national program "Read Across America." During the event she read the book Dog Breath by popular kids comedy writer Dave Pilkey to a group of first and third grade children. According to THR, after there was growing dissent, Grey took to Twitter to explain her decision.
Here's the thing: I 100% laud Grey's decision to take herself more seriously and redefine her career in a more mainstream way. There are plenty of charities Grey would be a great spokesman for. If she wants to speak out for shelter animals, or battered women, or anything not involving children, really, she could be a brilliant spokesperson. However, she shouldn't expect to go into a situation where kids are involved and not get flak from someone. Fair or no, many people are going to have many opinions about her past choices.. Working with kids is just going to cause her past to get brought up again and again. She needs to square with that and make decisions that will give her career forward traction and not dredge up the same past bullshit, over and over again.
Your Daily Blend of Entertainment News
Thank you for signing up to CinemaBlend. You will receive a verification email shortly.
There was a problem. Please refresh the page and try again.