Rejoice! Someone Created An 'Invincible' Cell Phone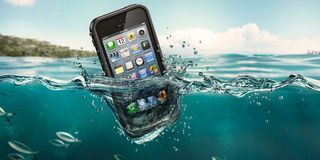 The days of worrying about dropping your phone on the ground or toilet have come to an end––at least according to a report on a new "invincible" phone called the Cat B100. Designed to "withstand the rigors of the real world," the Cat has been making the rounds at this year's International Consumer Electronics Show (CES) out in Las Vegas.
So what is so special about this thing? Well, for starters, the phone is basically liquid-proof. However, it can only be submerged in up to three feet of water for 30 minutes at a time without dying, so don't plan on taking it with you on your next deep-sea dive. Other highlights include a three-megapixel camera, 10 hours of talk time, a noise-cancelling feature that drowns out any annoying background sounds, large buttons that allow you to use it while wearing gloves (goodbye, touch screen!), and the ability to survive in temperatures as low as 13 degrees. Of course, unless you're Bear Grylls or some type of daredevil explorer, you don't really care about any of those things. What you came for was the anti-floor-dropping feature. Yes, the Cat B100 can survive a drop of up to five feet (tall people need not apply, I guess?). However, what it won't do is allow you to use it in a movie theater without pissing people off, so please don't try it!
According to Dave Floyd, co-CEO of Bullitt Mobile, the company licensing these phones, "The Cat B100 is a practical and tough mobile phone, designed for people who demand ultimate reliability."
Tough? Invincible? Ultimate reliability? This sounds like a phone made for one of those dudes in a truck commercial, wearing rugged jeans and a flannel shirt while he's picking up chains and wiping the sweat from his brow. Perhaps Chevy should market their new Silverado's with a brand-spanking-new Cat B100.
No word yet on how much this bad boy will cost or when it will be hitting the market.
Your Daily Blend of Entertainment News
Your Daily Blend of Entertainment News
Thank you for signing up to CinemaBlend. You will receive a verification email shortly.
There was a problem. Please refresh the page and try again.