Sara Gilbert And Linda Perry Got Hitched This Past Weekend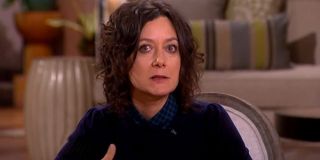 Darlene Conner got married to the former lead singer of the 4 Non Blondes. No you haven't traveled back in time to a decade of flannel shirts and grunge music. Even though it sounds like the plot to a surreal episode of Roseanne, this past Sunday it became a reality.
Sara Gilbert who played the spunky Darlene on the 90s hit show, Roseanne, and Linda Perry, former 4 Non Blondes frontwoman, tied the knot after a year long engagement on March 30th. Gilbert is the executive producer and co-host of daytime talk show The Talk on CBS. Perry currently writes and produces music for artists like Pink and Adam Lambert and fronts the band Deep Dark Robot. The couple tied the knot in an ocean front wedding with many of their friends and all of Gilbert's The Talk co-hosts in attendance.
Gilbert came out on her talk show in 2010 after years of being in the closet. She openly discussed her children and long time partner at the time, Allison Adler. The couple share two children, Levi and Sawyer, but the pair amicably split in early 2011. Perry is formerly linked to actress Clementine Ford, Cybill Shepard's daughter. Gilbert and Perry started seeing each other later in 2011 after both of their respective splits and have been inseparable since, officially getting engaged after Linda Perry's adorable proposal in 2012.
The pair join a list of several LGBT celebrities who have tied the knot this past year. Jesse Tyler-Ferguson, of Modern Family fame, married his adorable boyfriend Justin Mikita last July. Former Grey's Anatomy star TR Knight tied the knot with his long time boyfriend Patrick at the end of 2013. Lily Tomlin and girlfriend Jane Wagner got married this year after being together for 42 years. As more states pass pro same sex marriage laws, more and more LGBT couples in Hollywood are making their move to marry.
Gilbert and Perry are currently on their honeymoon and spending some time away from celebrity life. We wish Sarah and Linda nothing but happiness and success in their marriage.
Your Daily Blend of Entertainment News
Thank you for signing up to CinemaBlend. You will receive a verification email shortly.
There was a problem. Please refresh the page and try again.