School District Shuts Down Minnesota Teen's Attempts To Take Porn Star To Prom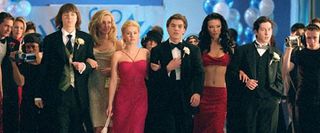 Any teen who has seen The Girl Next Door and has fairly high levels of testosterone has probably entertained the idea of taking a porn star to prom. Most of these fantasies will remain just that. However, if you are Minnesotan teen Mike Stone, you might find a way to turn your wildest fantasies into action.
Mike Stone was just your average 18 year-old teenager at Tartan High School in St. Paul, looking for a prom date this spring. After sending out hundreds of Tweets to porn stars looking for a prom date, one finally said yes. That yes was from 19 year-old porn star Megan Piper, who told the teen she would be happy to attend as long as transportation was covered.
With a definite yes and transport plans in the works, all seemed to be going well for the teen, that is, until administrator Patty Phillips shut the idea down. According to policies obtained by the Star Tribune, the school district can step in when "the visit is not in the best interest of students, employees or the school district" or the visit "substantially disrupts the orderly operation of school or school activities."
Years ago, at my high school, there was a written policy featuring an age restriction on bringing a date to prom. The under-21 clause was meant to help ensure no alcohol was brought into the event. Having an age limit or having to sign in at prom with identification is pretty common at high school events. At the end of the day a school is acting in loco parentis, and since Hazelwood v. Kuhlmeier administrations can limit student expression if they feel that expression is sending out the wrong message. While I'm sure it sucks for Stone, who is out a date, and Piper, who likely feels like she has been targeted for doing something wrong, this more likely is a case of an administration trying to keep something as simple as a dance from turning into a brouhaha.
Here's to hoping that someone else will step up so Stone is not forced to go stag to this year's big event.
Your Daily Blend of Entertainment News