Serengeti Lions Seen In New Light Thanks To Epic Interactive Essay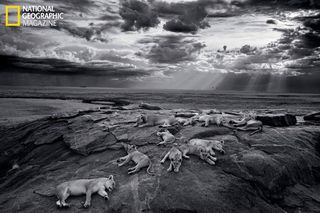 The National Geographic Channel may not crush in the ratings, but the National Geographic Magazine is still taking audiences to brand new worlds. The magazine recently proved this with its brand new interactive essay, "The Serengeti Lion," (opens in new tab) which takes a look at life on the plains with a group of lions known as the Vumbi Pride, as well as gives us glimpses at a variety of other life living in the Serengeti National Park.
Biologist Craig Packer, who has headed up the Serengeti Lion Project since 1978, initially put the collaborative effort together. He and his team decided to take a closer look at life across the vast Serengeti by setting up numerous camera traps over a large area, which ranged over 390 square miles. That might seem like a lot of space, but it's relatively small when compared to the 5,700 square miles making up the Serengeti National Park. In that space, 225 traps were set up to track migration patterns of various species, as well as other behaviors. While the team was hoping to learn more about the lion pride, the group also learned more about many of the other creatures running wild across the park. The results of the team's efforts are often stunning.
Cinematographer Nathan Williamson captured many of the video components available in the interactive essay and photographer Michael Nichols took plenty of innovative photos, even capturing the lion pride and its cubs taking down prey at night with minimal invasion, thanks to infrared light. The result is an innovative essay featuring photos, video, captions, storytelling and more. The team spent two years living and working near the pride to capture the rare images.
The two-year project involved a lot of interesting camera techniques and photo opportunities. Occasionally, even camera robots were used to get up close and personal with the Vumbi Pride. The photo and interactive essay will take viewers on a pretty incredible journey, but there are plenty of other ways to get involved with the project. Packer recently spoke with National Geographic (opens in new tab), telling the outlet about the Serengeti Snapshot project still in the works. Visitors to the site can donate money and even receive training to help the team to classify the broad array of animals caught on film thanks to the camera traps. The team is trying to reach a goal of $33,000 by this Friday in order to fund the project for another year.
Regardless of whether or not you are interested in classifying animals, the project and "The Serengeti Lion" essay takes a look at creatures most people don't ever get to see intimately and in the wild. It's worth a perusal, and you can see some more of the wonderful images in full size, below.
Photo Credit@ National Geographic/ Michael Nichols
Image 1 of 5