So Much For The Henry Cavill And Kaley Cuoco Relationship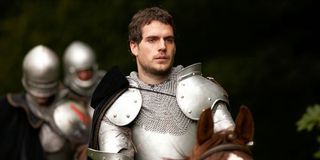 Remember when the main dude from Superman and the hot chick from Big Bang Theory decided to form a super couple, seemingly out of nowhere? Well, almost as soon as that little gossipy slice of randomness began, it crossed the finish line. Henry Cavill and Kaley Cuoco have reportedly decided to go their separate ways, ending what, if careers progressed properly, could have been one of Hollywood's most famous couples five or ten years down the road.
According to E! Online, Cavill and Cuoco went their separate ways on very amiable terms, which makes a whole lot of sense considering they weren't even together long enough to generate any strong feelings. No one (who isn't close to the couple) is quite sure exactly how long not very long means. Some estimate the two tried to make things work for a few weeks while others estimate a few months. Either way, it was long enough to produce this goofy picture that should be the only thing we remember about the relationship moving forward…
I love how her face looks in this picture. With a mouth fully agape and a dumbstruck and helpless gaze, she seems simultaneously in awe of how big of a star her then-boyfriend is and hopelessly smitten with his beautiful face and impressive physique. The entire thing would be easy to make fun of, but in all seriousness, what person wouldn't be stoked about seeing their significant other in superhero attire and made to appeal to the entire world?
Both Cavill and Cuoco have been around the block when it comes to fame, image and celebrity relationships. How to best dress for the red carpet has been on her mind for years, and how to get more jacked has been a wonder of his for awhile. After finding each other, they might have made a lot of sense on paper, but fortunately or unfortunately, there's nothing more important than straight up, real world chemistry. If this early break-up is any indication, these two just didn't have enough of it.
This is ordinarily the part of the article where Pop Blend would send out its well-wishes to the former couple, but these two clearly don't need any good luck or positive mojo to meet other attractive and talented people. They've always done fine on their own, and there's no reason to think that will change moving forward.
Enthusiastic about Clue, case-of-the-week mysteries, the NBA and cookies at Disney World. Less enthusiastic about the pricing structure of cable, loud noises and Tuesdays.
Your Daily Blend of Entertainment News
Thank you for signing up to CinemaBlend. You will receive a verification email shortly.
There was a problem. Please refresh the page and try again.