Spongebob Is Heading To Broadway With Some Of The Biggest Names In Music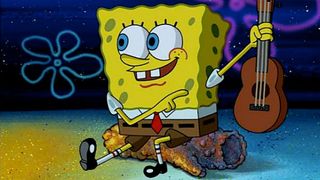 Everyone's favorite animated sponge is bringing his pineapple house to Broadway, and since his popularity dives deep to the bottom of the ocean, some of the biggest names in music have decided to hop aboard. The SpongeBob Musical, produced by Nickelodeon has attracted a slew of contemporary music names, all slated to contribute original songs. From Steven Tyler to David Bowie, this is a Bikini Bottom event that will rock your socks off.
The SpongeBob Musical is co-conceived and directed by experienced Broadway writer-director Tina Landau and Tom Kitt, Pulitzer prize winning composer for Next to Normal is serving as the musical director. But who's slated to contribute original songs to the show is where the notion of this SpongeBob stage production gets even more exciting. According to Variety, already signed on are Aerosmith's Steven Tyler and Joe Perry, the Flaming Lips, John Legend, Cyndi Lauper, Lady Antebellum and David Bowie. And if that wasn't enough to get the piggy bank out, Kitt is also working with a contributing group of musicians including Panic! at the Disco, T.I., Dirty Projectors, Jonathan Coulton, Plain White T's and They Might Be Giants.
Not much has been given about the plot of the musical, but with a slate of artists that wide, you know it is going to be one funky fun ride. The design team will include Fun Home's David Zinn for sets and costumes, four-time Tony winner Kevin James on lights, and Peter Nigrini for sound. The musical is just starting to set into motion right now, with a preview date at Chicago's Oriental Theater set for June 7, 2016 with a limited engagement running till July 3. The SpongeBob Musical probably won't hit New York's theaters until their 2016-2017 Broadway season, though no casting or timeline has been set yet.
Spongebob has had no problem reaching a wide fanbase over the years through his TV series SpongeBob Squarepants and his two feature length films. His series attracts both younger and older audiences for different reasons, but with equivalent entertainment value. There's no doubt that a project such as this, especially with the musical names attached, will fill seats. And though tickets haven't gone on sale yet, be sure to stay on top of them if you're interested, as we imagine these selling out...fast.
Your Daily Blend of Entertainment News
Thank you for signing up to CinemaBlend. You will receive a verification email shortly.
There was a problem. Please refresh the page and try again.