Star Trek And Green Lantern Are About To Get A Crossover Comic Series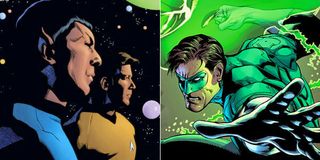 Trekkies and fans of Hal Jordan and the Green Lantern Corps brace yourselves as your worlds are about to collide. Word has it that IDW and DC Entertainment are teaming up for an "epic comic book crossover event" that will bring together Star Trek and Green Lantern.
It was announced last night at WonderCon that IDW Publishing (holder of the Star Trek license), DC Entertainment and CBS Consumer Products plans to "boldly go where no one has gone before... in brightest day, in blackest night." According to the IDW Facebook announcement, the Star Trek and Green Lantern franchises will come together in July through the release of a six-part comic book miniseries entitled Star Trek/Green Lantern: The Spectrum War which promises that the meshing of interstellar characters will provide "galaxy-sized thrills."
The upcoming six-part monthly comic book mini-series will be written by veteran Star Trek comic writer Mike Johnson with illustrations provided by Angel Hernandez (Infinite Crisis: Fight For The Multiverse, Arrow). The first edition of Spectrum War, with covers by Gabriel Rodriguez, Elsa Charretier, Garry Brown and Francesco Francavilla, will hit stores and online outlets in July, something IDW President and COO Greg Goldstein seems very excited about:
To help get fans excited, IDW has released some of the upcoming comics' artwork. Check out the cover art, which features Hal Jordan and the current Star Trek franchise cast.
Here is another image featuring the crossover's logo, featuring the Green Lantern logo with the Star Trek Enterprise cruiser. Simple and well-executed.
The series, which will span Star Trek's 23rd Century, will see the U.S.S. Enterprise crew meeting Jordan and the entire Green Lantern Corps as they span space, time and the full colors of the spectrum. When unnamed Star Trek characters come into possession of the Power Rings, the universe's balance will be tested with evil lurking behind every corner.
This isn't the first time Star Trek has crossed over. Back in 1996 the crew of the Enterprise were mashed up with members of Marvel's X-Men for a one-shot.
Your Daily Blend of Entertainment News