Star Trek May Be Heading Back To TV, Get The Details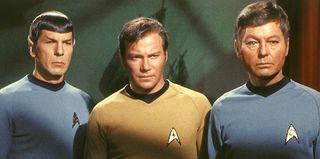 A lot of hardcore Star Trek fans have been critical of the rebooted film franchise, and almost every time a story drops about that, there is a minor clamor for the franchise to return to television, where it began almost 50 years ago. According to one new report, that could be closer than we think, and new series may be on the way.
Sources tell Latino Review that CBS is working to bring Star Trek back to your TV sets. They don't offer much in the way of details, but the biggest tidbit they share is that X-Men: Days of Future Past director Bryan Singer has been bandied about as an executive producer through his Bad Hat Harry Productions. We'll have to wait and see if this news pans out, but there's definite potential, and Singer is a well-known fan and has a history with the franchise.
Star Trek: Enterprise, the most recent series, went off the air in 2005, and since then there have been a couple of attempts to mount another in its wake. Bryce Zabel (Dark Skies) and Babylon 5's J. Michael Straczynski worked on a version called Star Trek: Reboot the Universe. There was also another one called Star Trek: Federation, and wouldn't you know, Singer was one of the main three involved with that project, along with Christopher McQuarrie (Mission: Impossible - Rogue Nation) and Robert Burnett, with novelist Geoffrey Thorne handling the writing.
Singer is the only name specifically mentioned in LR's report. There's no concrete word on whether any of the others are still involved, but Burnett has continued dabbling in that realm, working as a producer on the fan-funded film Star Trek: Axanar, from the people behind Star Trek: Prelude to Axanar. McQuarrie is busy getting Rogue Nation in shape for its release in July, though he is working with Bad Robot on that one, and has mentioned Trek on social media as recently as last December. For his part, Singer is prepping X-Men: Apocalypse, but has sporadically talked about Star Trek over the years. If nothing else, they all still appear to have love for the franchise.
If Singer and/or any of these people are working on a new Star Trek series, it will be interesting to see if it is similar to Federation. That idea didn't reboot the universe, but instead takes place in the distant future. In this vision, the United Federation of Planets has become bloated and complacent, and Starfleet has become outdated and ineffective. Basically, it imagines a world where the Federation is a dysfunctional mess, causing many worlds to withdraw due to the ineffective way the government responds to an emerging threat called the Scourge. That's definitely fertile ground for a new series to explore.
Who the hell knows if this will actually amount to anything? Paramount is still working to get Star Trek 3 together, though there appears to be movement — Simon Pegg has been talking about the script, and Idris Elba is reportedly up for an as-yet-unnamed villain role. The Justin Lin-directed film is scheduled to hit theaters on July 6, 2016, but it would also be pretty cool to have more Star Trek on TV to commemorate the 50th anniversary of Gene Roddenberry's groundbreaking franchise.
Your Daily Blend of Entertainment News
Thank you for signing up to CinemaBlend. You will receive a verification email shortly.
There was a problem. Please refresh the page and try again.