Marvel May Tie Their Animated Series To The MCU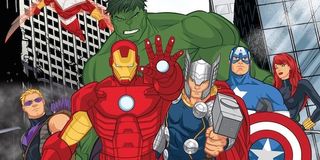 There's no arguing Marvel's dominance when it comes to big screen live action feature films. The same, however, cannot necessarily be said when it comes to the animation side of things, but that may soon change as we recently learned there's some Marvel Cinematic Universe crossover potential in the works.
Per Newsarama, on the final day of this year's Emerald City Comic Con, the discussion of Marvel cartoon work was opened up at the "Marvel Animation Presents" panel and the company's Animation Development and Production VP Cort Lane answered a number of questions during the Q&A. When asked about whether the animation team might produce content within the Marvel Cinematic Universe, he had this to say:
What "things" could he be referring to? That's the million dollar question. Most likely we're looking at more animated series' on Disney XD, which is already host to such shows as Ultimate Spider-Man and Avengers Assemble, both of which I might add have yet to be renewed. There's also Hulk and the Agents of S.M.A.S.H., which, while not all that highly rated, does feature voice work by Seth Green and Clancy Brown for what it's worth. While Avengers Assemble has caught a quite a bit of flack from fans of the brand, many are quite fond of the earlier run animated series The Avengers: Earth's Mightiest Heroes, which was cancelled back in 2012. Could they bring EMH back? Possibly, but not likely. Something on par with that level of animation would, however, be more likely to put smiles on fans' faces.
Some options, other than Disney XD series', would be animated shorts to precede the big screen films or even more likely direct-to-video releases tying into the MCU. Marvel already has a hand in the DTV game, and has done pretty well in the past but hasn't faired all that well with their more recent releases like Iron Man & Hulk: Heroes United and Iron Man & Captain America: Heroes United. Warner Bros./DC, who have long been dominant in this space, have proven when done right, DTV can be pretty successful.
The MCU's Phase Two is set to come to a close later this year after the release of Avengers: Age of Ultron in May and Ant-Man in July. Then it's on to Phase Three, which begins in 2016 with the highly-anticipated Captain America: Civil War. Combined with Marvel's recent small screen expansion with shows like 2013's Agents of S.H.I.E.L.D, the more recent Agent Carter and the upcoming Charlie Cox-led Netflix original series Daredevil, (which drops all 13 episodes this upcoming Friday, April 10) the brand certainly is opening further possibilities for crossover. It should be interesting to see how they will incorporate in animation. What do you all think? Should they, could they, will they make it work? If so, how do you see it happening?
Your Daily Blend of Entertainment News
Your Daily Blend of Entertainment News
Thank you for signing up to CinemaBlend. You will receive a verification email shortly.
There was a problem. Please refresh the page and try again.