Teen Mom 2 Star Jenelle Evans Bids Adieu To Gary Head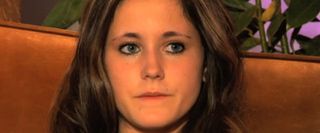 Teen Mom 2 star Janelle Evans spent the last week dashing pregnancy rumors. She eventually succeeded, thanks to an important photo documenting the reality star's boob job as well as her decently flat tummy. After convincing the world she is not going to have a new baby, the 20 year-old was pretty free from the gossip mill. That is, until she decided to call off her engagement.
Evans decided to call it quits with her marine fiancée Gary Head a couple of days ago. Since then, she's spent her last few social networking hours all over Twitter discussing the couple's lover spats. Apparently, Evans would like to keep her engagement ring despite the break-up and Head, in retaliation, nabbed one of her prized possessions—a necklace from Tiffany's.
The young mother's Twitter also alludes to signs her fiancé has been cheating on her. Despite only being engaged for two weeks, the whole ordeal is a bit of public shame on both of them. It was only recently that Evans seemed to be getting her life together, and Head seemed to be a big part of that, but with a really public feud, both seem to be backtracking a little bit. E! recently found a source stating this might only be a lover's spat and the couple might get back together; however, staying apart may prove to be the better option.
Your Daily Blend of Entertainment News
Thank you for signing up to CinemaBlend. You will receive a verification email shortly.
There was a problem. Please refresh the page and try again.