Top Chef: Just Dessert's Morgan Wilson Headed To Court On Child Porn Charges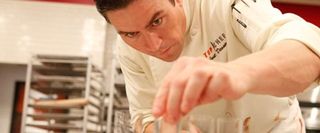 Remember Morgan Wilson from Top Chef: Just Desserts? The lanky, arrogant contestant was perhaps best known for making a somewhat skanky chocolate evening gown in the edible fashion challenge. After ending as a runner up on the program, we haven't heard much from Wilson. At least until this month. On October 6, Wilson was indicted on three second-degree felony charges of possession of child pornography.
Possessing porn will not be Wilson's biggest issue. When he appears before a judge at court on October 27 for sentencing, he will also have to account for several transfers of the pornography he possessed, downloaded through the sharing program Limewire. According to The Plano Star-Courier, FBI agents initially found the man via Limewire and his IP address. The pastry chef was initially interviewed by the FBI on September 27, 2010, right around the time the first season of Just Desserts aired.
In an epic bummer, the files apparently even featured some toddlers in explicit acts. This is one of those rare cases in which the specific details are perhaps the last thing we really want to hear about. Even when a person has impulses, there are two paths that person can go down. Wilson had a successful career as the executive pastry chef at the Ritz Carlton in Dallas. His tenure on Just Desserts may have led him to be a well known name, but he gave it all up for three shared files on Limewire.
Your Daily Blend of Entertainment News
Thank you for signing up to CinemaBlend. You will receive a verification email shortly.
There was a problem. Please refresh the page and try again.