Universal Studios Japan Opening New Island Theme Park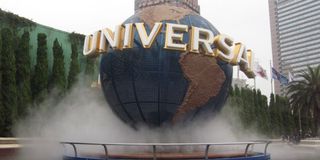 Just a few months after Universal Studios Japan launched its new Wizarding World of Harry Potter attraction, the park has now announced that they are moving forward in building a new destination all together. The park plans to open on Okinawa, an island about 400 miles south of Japan where an abundance of U.S. military bases are located.
There's been somewhat of a surge in theme park construction in Asia as of late, and this new park hopes to bring out the island of Okinawa as a tourist destination. While the park is being build by the Universal Studios Japan company, the new destination will not be branded as a Universal Studios park. Instead of using Hollywood movies content, the new park plans on using Okinawa as its inspiration, according to The Hollywood Reporter. While details are still being worked out, USJ has confirmed plans to build in the vicinity of Neo Park Okinawa. The park is also planning to feature a zoo where animals can live in natural habitats located in Nago, the island's second largest city.
The company hopes to move forward off of the booming success they've seen in their amusement park lately. USJ features rides and attractions featuring Hollywood blockbusters such as Jurassic Park, Spider-man and Harry Potter. The current park located in Osaka has received a record number of visitors this year specifically due to the opening of Wizarding World. And on top of that, Okinawa is also attracting record visitors according THR. More and more tourists are coming in from China and other Asian territories than ever before, but there is still a large number of U.S. military bases located on the island. And despite the heavy local opposition to the troops, the island's economy is reliant on them.
A large-scale theme would be a huge boost for the local economy which would be a necessary benefit as the U.S. military base would relocate. Ever since early last year, local newspapers were running rumors that a new theme park was coming, saying a $200 million park would open on the site of the Futenma Marine base. No official time frame, location or budget have been announced for the USJ park, but the prospect is surely welcomed by the locals and Universal Studios.
Your Daily Blend of Entertainment News
Thank you for signing up to CinemaBlend. You will receive a verification email shortly.
There was a problem. Please refresh the page and try again.