Watch Chris Pratt's Forgot About Dre Rap Remixed With The Actual Song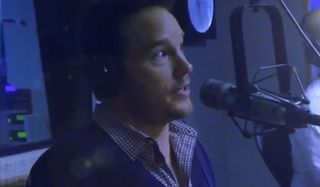 After the video of Chris Pratt rapping Dr. Dre and Eminem's "Forgot About Dre" went viral, it was surely only a matter of time before someone remixed that video with the music from the actual song. Sure enough, here it is, showing off Chris Pratt's impressive rapping abilities set over the Grammy Award-winning single from Dr. Dre's 2001 album.
Pratt rapped part of the song during an interview at Shade45 with DJ Whoo Kid. Prior to showing off his rapping abilities, Pratt revealed that back in the day, Chronic 2001 was kind of his "Peter Quill mix," referencing the character he plays in Guardians of the Galaxy, who frequently listens to the same mix tape of classic songs. Pratt says he and his friend lived in a van in Maui and they listened to 2001 every day. "I know every word to that album," Pratt boasted. To prove it, he rapped some of "Forgot about Dre." Watch the video below to see the unedited impromptu performance.
So, Chris Pratt is awesome. And big points to TreyTech for remixing the video with the original track. It also looks like they tinkered with the lighting and threw in a bit of lens flair for effect.
Chris Pratt is most definitely on the rise these days, with recent credits that include Delivery Man, The Lego Movie, Her and Zero Dark Thirty, not to mention the upcoming Jurassic World. Pratt can currently be seen starring in Guardians of the Galaxy, which is in theaters now -- read our review here! He also stars as Andy Dwyer in NBC's Parks and Recreation, which is headed into its final season.