Watch Demi Lovato Completely Faceplant While Performing Poolside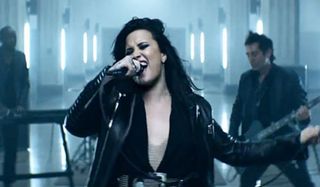 Poor, poor Demi Lovato. She always tries so hard, but sometimes ends up faceplanting in the process. And this time around, it came quite literally, when Demi Lovato was performing a new song "Cool for the Summer" at the KIIS-FM Pool Party in Los Angeles over the weekend when the singer took quite the tumble. Lovato though, quickly made up for the embarrassing wipe out by jumping into the nearest pool. And, at least she's in good humor about the whole incident, posting a clip of the faceplant on her Twitter account:
There are a few things we learn from this unfortunate event. First off, maybe it's not the greatest idea to wear insanely high heels while performing on a slippery stage. Second off, maybe it's not the greatest idea to wear those insanely high heels while singing and dancing on a slippery stage. Oh and also, Demi Lovato can seriously take a hit. That looked like it hurt, and more than just her pride. But the young pop star got right back up, gave her audience the peace sign and jumped right into the pool. Maybe it's a metaphor for her struggles in the past few years. She's still trying, and she's still making really catchy music.
Joking that her wipe out was "#NotCoolForTheSummer", a play on the track she was performing, Lovato also poked fun at the incident again on Twitter, basically giving us the O.K. to all laugh along with her.
Lovato has been throwing a bunch of pool parties lately, promoting the release of her catchy new song as well as interacting with her fans. You can see in the wipe out video, that afterwards she jumps into a pool with a crowd of fans for some splashing fun. The song, "Cool for the Summer" was officially on July 1st, and has already reached No. 1 on iTunes, so you can expect it to be blasting through the radio real soon. As for the 22-year-old singer, no nasty falls will be stopping her anytime soon.
Your Daily Blend of Entertainment News
Your Daily Blend of Entertainment News
Thank you for signing up to CinemaBlend. You will receive a verification email shortly.
There was a problem. Please refresh the page and try again.