11 Times A Celebrity May Have Quietly Thrown Shade At Another Celeb On Social Media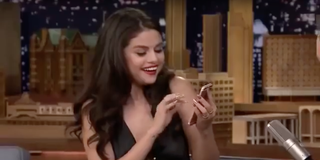 When you're in the public eye, it's not a good look to go off on another famous person in front of the world on social media. Instead, celebrities have found much more subtle ways to quietly diss one another on social media. Here are some of the times superstars unfollowed, untagged, or liked shady posts of their fellow celebs in the past year.
Bella Hadid unfollows Selena Gomez
Selena Gomez had the Internet buzzing when she went on a date with fellow pop star The Weeknd at the beginning of 2017, but one person that wasn't feeling the couple was The Weeknd's ex Bella Hadid. The supermodel had split up with the R&B crooner just two months earlier, citing scheduling as the main conflict, and apparently the feelings are still there, because after news of The Weeknd's new lady broke, Hadid unfollowed Gomez on Instagram, E! News reported.
Rihanna unfollows Jennifer Lopez
Just a few months before Bella Hadid unfollowed Selena Gomez for dating her ex, Rihanna did the same thing with Jennifer Lopez. After both JLo and Drake posted a cutesy photo of the two of them cuddled up on a couch together, Rihanna showed what may have been her disapproval by hitting the unfollow button on Lopez's social media accounts,. Drake and Rihanna had been heavily rumored to be in an on-again, off-again relationship for years.
Tina Knowles likes a Jennifer Hudson diss
There's no need to be petty when you're the mother of Beyonce, but that's what it looked like Tina Knowles was doing when she liked an Instagram comment that ridiculed Jennifer Hudson's singing. Knowles later cleared up the snafu, saying that her finger slipped and the like was purely accidental, and going on to say that she loves Jennifer Hudson. You've got to be careful where you click, Mrs. Knowles!
Nicki Minaj doesn't tag Demi Lovato in photo
The 2016 Met Gala sparked some online drama between Nicki Minaj and Demi Lovato. Minaj uploaded a photo from the event of herself posing alongside a designer friend and Lovato, but only tagged the designer, E! News noted. Lovato responded by commenting on the shot with a laughing emoji, peace sign, and thumbs up, and then went on to share the photo --- which featured Minaj giving her what looks like a side-eyed glare --- on her own account, saying that the image summed up her night and that she didn't enjoy the Met Gala. It sounds like Lovato is commenting on a feud with Minaj, but Lovato later added a clarification to her Instagram comment, saying that she loved how Minaj was looking at her and was actually just trying to make a joke at how awkward she herself looked in the photo.
Taylor Swift's squad unfollows Demi Lovato
Poor Demi --- not even a week after her social media mix-up with Nicki Minaj she became the catalyst for another bit of Instagram shade, this time from Taylor Swift and her famous circle of friends. After Lovato posted a photo of herself with Hailey Baldwin, who has a rough relationship with Swift and her squad, Lovato reportedly lost some famous followers on her Instagram account, including Swift, Karlie Kloss, Selena Gomez, Gigi Hadid, and more, according to Seventeen.
Katy Perry dances to Taylor Swift diss
It is no secret that Katy Perry and Taylor Swift aren't exactly best buddies, so when Perry attended a Kanye West concert in 2016 (another celebrity who had some public friction with Swift) Perry took the opportunity to throw what looked like a little bit of shade. Swift and West had gotten into a very public battle over one of the lyric's in the rapper's song "Famous," in which he calls out Taylor by name and says he was responsible for her fame. When West performed the track at his concert, Perry filmed herself dancing to the verse in question and posted it to her Instagram.
Paris Hilton likes a shady Kim Kardashian post
Speaking of making people famous and Kanye West, Paris Hilton is often credited with paving the way for Kim Kardashian's brand of reality television stardom, and according to a post that Hilton herself liked on Instagram in 2016, the hotel heiress think that Kardashian wouldn't be a star if it weren't for her, Us Weekly reported. A meme posted by one of Hilton's fans photoshopped Hilton's face next to West and Kardashian from West's music video for "Famous," and written above them was a parody of the song lyrics: "I made his bitch famous." But it doesn't seem like the photo made Kardashian angry if she noticed it --- the reality star actually took a break from her social media hiatus a few months later to follow Hilton on Instagram.
Selena Gomez likes various posts dissing Justin Bieber
Although she dated Justin Bieber for over five years, there was no love lost on Selena Gomez's side after their break-up in 2016. When Bieber moved on to dating Sofia Richie, Gomez had some fun on Instagram, apparently liking various posts that dissed Bieber and celebrated Gomez.
Rihanna likes a post dissing Beyonce
Two of the most celebrated albums of 2016 came from Rihanna and Beyonce, but only Beyonce's Lemonade managed to get an Album of the Year nomination from the Grammys. Rihanna fan vented about his anger that ANTI didn't get the big nomination, and accused the awards show of purposefully short-changing Rihanna in order to keeping the spotlight on Beyonce. Surprisingly, Rihanna actually liked the shady post, but as Us Weekly reported, later went on to clarify that she hadn't read the full caption and didn't approve of the Instagram user pitting black women against one another.
Ashley Greene posts shady message after Joe Jonas AMA
Joe Jonas gave Reddit users everything they could have wanted in an AMA in 2016, unabashedly discussing various intimate details about his private life. One of those stories was about how he lost his virginity, which he said was to a past girlfriend named Ashley. It didn't take long for fans to realize he was talking about Twilight actress Ashley Greene, whom Jonas dated years back. Unsurprisingly, Greene didn't seem to love the personal story being shared online, but kept it subtle, seemingly responding to Jonas by simply posting the words "class is timeless" to her Instagram.
Zendaya, Tinashe, and more unfollow Chris Brown
Chris Brown made himself public enemy number one (yet again) after making some distasteful remarks about another R&B singer. After the singer Kehlani posted a photo from a hospital bed to Instagram saying that she had attempted suicide, Brown went on a Twitter rant accusing her of making the whole thing up. Fellow R&B songstresses Zendaya and Tinashe, both of whom had recently collaborated with Brown, swiftly hit the unfollow button, PerezHilton reported. Two-fifths of Fifth Harmony --- Dinah Jane and Normani Kordei --- also joined in on the unfollowing.
Your Daily Blend of Entertainment News
Your Daily Blend of Entertainment News
Thank you for signing up to CinemaBlend. You will receive a verification email shortly.
There was a problem. Please refresh the page and try again.