The 10 Greatest Criminal Minds Guest Stars, Ranked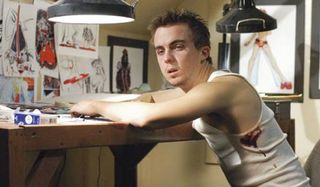 Criminal Minds has been on the air for 11 seasons now, and in that time, the show has featured a slew of awesome guest stars playing roles as varied as victims, unsubs and even family members. It's hard to choose the best of the best, so we recently culled through all of the big names to ever appear on the series and came up with a list of the best Criminal Minds guest stars, ranked. From foes to friends, there are some interesting picks here. You can check 'em out, below.
10. Aaron Paul
Three years before Aaron Paul started calling people "bitch" on Breaking Bad, he played a Satanist who was really into eyeliner on Criminal Minds. In the episode "The Popular Kids," Paul copped some attitude with the BAU and snorted at the idea that one of his peers could be a virgin. Seriously, how could you not want to go back and give this episode a re-watch?
9. Robert Englund
Criminal Minds isn't exactly a horror series, but it is horrifying on many occasions and what better way to show that than to bring in one of the horror genre's most famous faces? Intriguingly, Englund's big role was not that of a villain at all, but a detective appearing in the episode "Heathridge Manner." Sure, his role wasn't as intricate as the one played by Veronica Mars alum Kyle Gallner in the Season 7 episode, but the creepy manner and the Halloween-esque feel of the episode make this gig a perfect fit for the actor. Who better to play that role?
8. James Van Der Beek
James Van Der Beek is currently starring in his own procedural on CBS, but long before he landed the CSI: Cyber gig, the actor got his own guest stint on Criminal Minds. Van Der Beek took on the role of yet another serial killer on Criminal Minds, but his character was even more nuanced than usual, showing a split personality disorder that was memorable and has been mentioned on the series several times since. In one of Van Der Beek's two episodes "The Big Game," he even got to play a role opposite actress Meredith Monroe, who was also formerly in Dawson's Creek.
7. Cameron Monaghan
Years before Cameron Monaghan was "shameless" on Showtime and even before he played a joke or two on Gotham, he was already shaking things up on TV, appearing in a Season 2 episode of Criminal Minds as a troubled kid who turns into a serial killer when he figures out how to lure kids into the woods and kill them with a baseball bat. This was an awesome guest appearance, not only because it came during a time when Criminal Minds took more chances with kids involved with crime, but also because Monaghan was terrifying in the role, even as a young man. The actor was good at playing tortured even before Fox's villain-oriented comic series came calling.
6. Jane Lynch
It's hard to think of Jane Lynch's character Diana Reid as a guest star, as she's so integral to Dr. Spencer Reid's existence and the troubles he's dealt with throughout his life. Still, she's only appeared in five episodes across several seasons as Spencer Reid's mom, although she's referenced quite a bit more often. Now that Angel From Hell has been cancelled, maybe we'll see more of Jane Lynch on the long-running procedural.
5. Frankie Muniz
Frankie Muniz popped up in a Season 3 episode of Criminal Minds shortly after his gig on Malcolm in the Middle ended. His character on Criminal Minds was quite a bit different than his comedic gig, as he was forced to watch his girlfriend get raped and killed before being left for dead himself. This caused the character severe PTSD and ended up leading to him suffering a psychotic break and becoming a serial killer himself. The performance was a memorable one, due to the events leading to Muniz's character Jonny's psychotic break and the reasons for the kills themselves.
4. Ben Savage
Ben Savage's guest stint on Criminal Minds is memorable not because he played a psychopath, but because his role on the series was unique and different. In the episode, Savage played a younger version of Jason Gideon who was working with a young David Rossi in flashback sequences. We really liked this gig, as it was tied to the episode when Jason Gideon was killed off of the show. Criminal Minds hasn't always been super fond of flashbacks related to its main characters, but in the case of the Season 10 episode "Nelson's Sparrow," the device really worked.
3. Aubrey Plaza
It's hard to believe that 11 seasons into its run, Criminal Minds is still cobbling together intriguing plotlines related to the personal lives of the main characters. In the Season 11 episode "Entropy," Parks and Recreation actress Aubrey Plaza played a hitwoman lured into a setup by Spencer Reid and the team. He posed as her date during the episode. Then, they played an intricate game of cat and mouse. It was all connected to the network that has been hassling Penelope this season, too, which added to the drama. Plaza was reportedly stoked to play a badass murderess and we were pleased as punch to see her take on the role.
2. Michelle Trachtenberg
The 2013 Criminal Minds episode "Zugzwang" was a really personal episode for Dr. Spencer Reid. Spencer had been dating a mystery girl for a good chunk of the season, but she had refused to meet him, living in fear of a mystery stalker. In this particular episode, it was revealed that Michelle Trachtenberg's character was the stalker and her reason for stalking related to some crazy research work she had been a part of while working under Spencer's girlfriend Maeve. All was not well in the end, and the haunting way the episode ended is still permanently stuck in our heads.
1. Jason Alexander
Although we've been digging his guest stints on The Grinder, Jason Alexander's character on Criminal Minds is incredibly memorable. He plays a long-haired serial killer who poses as a professor at one of the BAU's lectures in the Season 4 episode "Masterpiece." He's obsessed with David Rossi, as Rossi put his brother in jail. Like other killers who crave attention, he admits to killing women and keeping others captive, setting a death trap for them and the members of the BAU. It was some pretty wild stuff, but it gave Rossi a chance to really shine in the face of a foe. Close But No Cigar: Wil Wheaton, Elle Fanning and Keith Carradine. Who were your favorite picks?
This poll is no longer available.
Reality TV fan with a pinch of Disney fairy dust thrown in. Theme park junkie. If you've created a rom-com I've probably watched it.
Your Daily Blend of Entertainment News
Thank you for signing up to CinemaBlend. You will receive a verification email shortly.
There was a problem. Please refresh the page and try again.