You Won't Believe Who Criminal Minds Killed Off During Last Night's Shocking Episode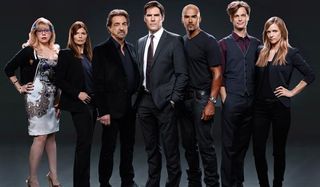 Seriously, there are some major spoilers in this article if you haven't caught last night's episode of Criminal Minds. If you don't want to be spoiled on who was killed off during the episode, please hightail it away from this page right now.
What is it about Criminal Minds? The CBS procedural likes to take all of the characters who are near and dear to the BAU team and kill them off, creating great emotional guilt and pain in leads like Aaron Hotchner, who lost his wife during Season 5 to the killer known as The Reaper, and even Dr. Spencer Read, whose girlfriend Maeve is killed in a murder-suicide during Season 8. This week, David Rossi and some long-term members of the BAU were hit especially hard by the murder of their former friend and mentor, Jason Gideon.
Gideon initially left the BAU at the beginning of Season 3, following a few cases that hadn't worked out particularly well, resulting in several deaths. At the time, Gideon resigned from his position and was replaced by David Rossi, who has been a part of the team ever since. The actor who played Gideon, Homeland's Mandy Patinkin, actually left the series due to the violent crimes the show focuses on week in and week out—not too far from the reason the writers wrote Gideon off the show. With death and destruction so prominent, it's not surprising that Gideon was killed on Criminal Minds during last night's Season 10 episode, "Nelson's Sparrow."
During the opening scene we head to Gideon's cabin, where we see familiar shots, including a chessboard, before the show reveals that Jason Gideon has been the victim this time around. We soon realize that Gideon, despite hoping to live a more carefree existence in his later years, has been sucked into a cold case. Many years ago in Roanoke, several dead bodies had been found and later a young woman disappeared. After a new body was found with similar markings linking back to Gideon's former case, Gideon investigated. Unfortunately, the killer, Donnie Malick, caught on and followed Gideon to his home, shooting him with a high-powered rifle. The BAU was called in to investigate Gideon's murder, and the rest is history.
We learned earlier this season that Criminal Minds would be using flashback sequences to show us the relationship between David Rossi and Jason Gideon during the early days of the BAU. Girl Meets World actor Ben Savage was signed on for that specific purpose, but it was still shocking and a bit overwhelming to learn those scenes were happening because Gideon had been killed.
Obviously, due to Patinkin's Homeland commitments and the fact the man had less-than-kind things to say about Criminal Minds, he was a prime candidate to be killed off of the series--in a way that would not require his actual presence on the show. (Although, how awesome would a Mandy Patinkin cameo have been?) Even if he was the perfect big character to kill off, it was still unsettling, and a lot sadder than expected to see the camera linger on the chess pieces, the Audubon books and the few other possessions the character held dear. You'll be missed, Jason Gideon, RIP.
You can catch new episodes of CBS' Criminal Minds on Wednesdays at 9 p.m. Catch the latest episode over at CBS' site (opens in new tab).
Photo Credit@CBS
Reality TV fan with a pinch of Disney fairy dust thrown in. Theme park junkie. If you've created a rom-com I've probably watched it.
Your Daily Blend of Entertainment News
Thank you for signing up to CinemaBlend. You will receive a verification email shortly.
There was a problem. Please refresh the page and try again.