The 100 Character That Will Return For The Finale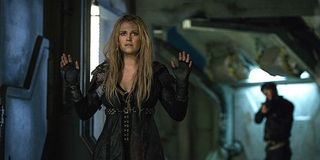 Spoilers below for The 100.
The 100 has never exactly been a light show, but Season 3 has taken Clarke and Co. into whole new levels of dark. Between male lead Bellamy helping to murder hundreds of allies and an artificial intelligence unit crucifying people who refuse to obey her, there have been a lot of bummer twists in the third season. One of the shocks that devastated plenty of fans was the death of Commander Lexa in a pretty anticlimactic sequence some episodes back. Luckily for those fans, Lexa will be making a return appearance in the Season 3 finale.
Alycia Debnam Carey will reprise the role of Lexa in the upcoming "Perverse Instantiation (Part 2)," according to TVLine. The episode is set to feature Clarke journeying into the City of Light that is the construct of the A.I. ALIE to try to destroy her for good. To do so, Clarke will presumably have to either accept the ALIE 1.0 chip that has taken over the minds of her friends or the ALIE 2.0 chip that is technically only supposed to work on potential commanders with the black nightblood. Given that Clarke will be encountering Lexa in some way, we can assume that she finds a way to survive ALIE 2.0 and interact with the commanders of days past.
The 100 showrunner Jason Rothenberg admitted way back when Lexa was first killed that the big death happened partially because of Alycia Debnam Carey's role on Fear the Walking Dead. He had claimed that he'd be losing use of her as an actress after Episode 7, so Lexa's reappearance in Episode 16 is a nice surprise. Lexa really did have to die in order for the A.I. plot to work in the second half of the season, but her death was so sudden that it left fans without much closure. Hopefully, Alycia Debnam Carey's return for the Season 3 finale will give a more satisfactory conclusion to Lexa's arc.
Assuming that Clarke encounters Lexa via ALIE 2.0, I'm curious about what the good guys will do to keep Clarke from dying without any natural nightblood. She may ultimately be able to take down ALIE 1.0 and reunite with Lexa in a way, but it's possible that she'll suffer long-term effects of taking the chip. The 100 is usually pretty good about showing consequences for actions, so I'll be interested to see how the fight against ALIE may change Clarke for Season 4. Whether her experience is physical, emotional, or a combination of the two, she's sure to be different afterward.
The Season 3 finale of The 100 airs on May 19 at 9 p.m. ET on The CW. Be sure to tune in to see what may well be the final interactions between Clarke and Lexa. To see what you'll be able to watch during the wait for Season 4, check out our summer TV premiere schedule.
Resident of One Chicago, Bachelor Nation, and Cleveland. Has opinions about crossovers, Star Wars, and superheroes. Will not time travel.
Your Daily Blend of Entertainment News
Thank you for signing up to CinemaBlend. You will receive a verification email shortly.
There was a problem. Please refresh the page and try again.