12 Days Of Christmas: Six Feet Under - Most Wonderful Time Of The Year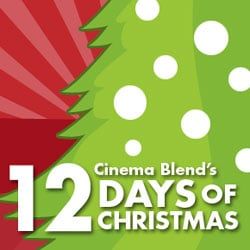 It's time to celebrate the Christmas/ Chanukah/ Kwanza/ Festivus Holiday season, so all around Cinema Blend we're enjoying Twelve Days of Christmas. Yes, we know traditionally the "12 days" start with Christmas, but we plan on being celebrated out by that time, so we're pushing the twelve days leading up to the holiday.
Here in Blend Television we're celebrating by counting down our some of our all time favorite holiday episodes, in an effort to boost your Christmas spirit. These aren't the 12 best out there by any means, just twelve of our favorites. Some of them you might enjoy like we do. Others you might want to check out for the first time. So without further ado:
On the tenth day of Christmas, my true love gave to me…
The Death Of Santa Claus
The late, great drama about the Fisher family of morticians, Six Feet Under, could always be counted on to take an acerbic , twisted view on even the most sentimental subjects, from the death of a parent to a wedding. Their take on Christmas, however, is probably their best. The first episode of the series takes place on Christmas Day, and within the first scene, the patriarch of the main family, Nathaniel, is hit by a bus and killed.
Their best Christmas episode, though, is the second season's "It's The Most Wonderful Time of the Year." A year after Nathaniel's death, his children and widow cope with it by remembering, in flashbacks, the last time they saw him, and treating each other in the only way they know how. His wife Ruth stresses over every detail of the Christmas Day dinner, son David stresses over bringing his boyfriend Keith for Christmas for the first time, teenager daughter Claire acts out and pretends not to care about Christmas at all, and Nate, recently diagnosed with a fatal illness, contemplates his own mortality. Even Rico, a mortician who works with but isn't part of the family, pauses to think of Nathaniel while enmeshed in his own family drama.
The structure of Six Feet Under shows a death in the first scene of each episode, usually a person whose funeral would be handled by the Fishers. The death here is a classic: Santa Claus, riding a motorcycle, is hit by a car in front of three agape children (I promise it's actually funny!) The rest of the episode finds the Fishers throwing a biker funeral on Christmas Day, complete with sing-along versions of "Free Bird," dozens of pints of whiskeyand, of course, men and women decked out in leather. The party lasts all night, a contrast to the Fishers own tense Christmas dinner that isn't lost on Nate. He stays up to chat with Santa's widow, and when she unexpectedly leaves him the man's beloved Harley, Nate takes the opportunity for a single ride of freedom.
It sounds mean-spirited to have Christmas episode in which Santa dies, but "The Most Wonderful Time of the Year" actually captures a lot of what Christmas means-- putting family first, remembering those you've lost, and finding a way to work with the family you've been given. If you can't handle another drama about a picture-perfect family, the Fishers will make you feel better about whatever chaos happens at your Christmas dinner. To get in the spirit of the Fishers, watch the Six Feet Under opening credits below.
Your Daily Blend of Entertainment News
Staff Writer at CinemaBlend