Supernatural's Finale Cliffhanger Just Got Resolved, Thanks To Jared Padalecki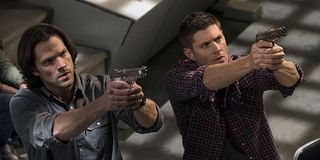 The CW's Supernatural has been on the air for a whopping eleven seasons, not deterred by writers' strikes or massive changes in tone or killing off its leads every once in a while. Those eleven seasons have proved that the show tends to provide two things in every finale: an opening montage set to "Carry On Wayward Son" and a huge cliffhanger. The big cliffhanger of the Season 11 finale featured Sam Winchester facing down the barrel of a gun aimed by a Brit on a mission to kill. The gun went off, and...the scene ended. Now, Jared Padalecki has dropped a bombshell about what happened.
Supernatural still has months of hiatus left before returning in the fall, so Jared Padalecki's reveal to TVLine is a bit of a surprise. Sure, Sam's final scene facing down a barrel of a gun from mere feet away made it look like the poor guy must have taken a bullet, but it was still a finale cliffhanger. Resolutions to finale cliffhangers usually aren't revealed until season premieres, unless huge spoilers make it out.
The shot heard 'round the world of Supernatural fans happened when Lady Toni showed up in the Winchesters' bunker to assassinate the brothers on behalf of the London faction of the Men of Letters. She only found Sam, which is probably for the best for the sake of her mission. If both boys had been around, one of them might have been able to distract her while the other got in position to disarm her. She had a pretty long speech to deliver about all the reasons why the London Men of Letters had decided to get rid of Sam and Dean. They totally could have taken her if they were both around.
Personally, I have to sympathize with the London Men of Letters a little bit. Between their efforts to save their world and the drastic measures they've taken to save each other, Sam and Dean have done a lot of damage. I love those boys, but I can't blame anybody for wanting to take them out of the equation.
It's interesting that Jared Padalecki doesn't know just how close Lady Toni has come to taking Sam out of the equation. She wasn't very far away from him when she pulled the trigger, and she pretty clearly wasn't aiming for his leg. Sam may be very seriously injured by the time Season 12 premieres, which is pretty much business as usual for Supernatural. I hope Dean shows up in time to tearfully cover himself in Sam's blood while cradling his body. Of course, Dean is pretty busy with his own cliffhanger that reunited him with his long-dead mom (again). Perhaps Jared Padalecki really hasn't spoiled that much about the big things to come.
Supernatural will be moving from Wednesday nights to Thursday nights for Season 12. Fans will have to wait just a little bit longer for the premiere. Stars [Jared Padalecki and Jensen Ackles][6] are both back on board for Season 12, so we can expect that Sam will ultimately survive -- or be resurrected -- from his latest mishap. Check out our summer TV premiere schedule to see what you can watch during the wait for hiatus to end.
[6]: http://www.cinemablend.com/television/How-Supernatural-Should-End-According-Stars-128267.html a
Resident of One Chicago, Bachelor Nation, and Cleveland. Has opinions about crossovers, Star Wars, and superheroes. Will not time travel.
Your Daily Blend of Entertainment News
Thank you for signing up to CinemaBlend. You will receive a verification email shortly.
There was a problem. Please refresh the page and try again.