How Sig Hansen's Heart Attack Will Affect The Deadliest Catch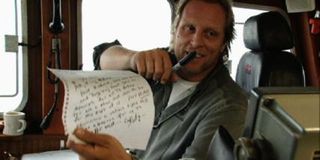 Deadliest Catch has been on the air since 2005, and in that time the show has seen a lot of drama go down both behind-the-scenes and on the well-liked series. Both Tony Lara and Phil Harris died offscreen. Another cast member, Captain Sig Hansen, actually suffered a heart attack while Deadliest Catch was filming back in March. Luckily, he survived the ordeal, and this week he spoke out about how his heart attack will affect his tenure Deadliest Catch.
It's interesting to think that a health scare could totally change the way you look at the order of things, but Hansen tells Zap2It that's exactly what happened for him. For a long time, Captain Sig Hansen's biggest priority seems to have been his life's work: going out into the sea to on his vessel the Northwestern to catch King Crab in the Bering Sea, and leaving behind his family in Seattle as he headed into the open waters. After having a heart attack at the age of 50, it's probably a reminder to consider the importance of your family in the equation.
Still, it doesn't seem as if much will change in Sig Hansen's life. The Captain has said that he plans to keep going out into the dangerous waters to fetch the best catch he can. While the show continued shooting after he had to be airlifted away to deal with his heart attack, we will see some of the moments the film crew shot on the small screen.
Part of the reason he may still be keeping up the work is because Deadliest Catch is still a prominent franchise for Discovery. Twelve seasons in, the show is still seeing high numbers and interested audiences and Sig Hansen is clearly interested in still being along for the ride if his health permits it. New episodes of Deadliest Catch and Deadliest Catch: The Bait air o Tuesdays at 8 p.m. and just after, only on Discovery. Here's what else TV has coming up this summer.
Reality TV fan with a pinch of Disney fairy dust thrown in. Theme park junkie. If you've created a rom-com I've probably watched it.
Your Daily Blend of Entertainment News
Thank you for signing up to CinemaBlend. You will receive a verification email shortly.
There was a problem. Please refresh the page and try again.