The Shocking Way America's Funniest Home Videos Actually Picks Its Winners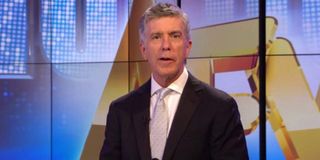 America's Funniest Home Videos has been an ABC staple for years. Over time, the show has changed out its hosts on several occasions, and in 2015 Tom Bergeron stepped down as the host of the viral video TV series and Alfonso Ribeiro signed on to lead the series in his place. Although Tom Bergeron is still an ABC personality, he recently made some candid comments about his time on America's Funniest Home Videos during an AMA. When asked why sometimes the funniest videos don't actually become finalists, Bergeron gave both a shocking and candid answer. Here's what he had to say about which videos are chosen to be finalists:
Alright, so re-airing a video might seem sketch, but considering that America's Funniest Home Videos often airs types of footage based on themes, it's not a huge shock that the show might need to repeat videos occasionally to fill gaps. However, what is a little more unbelievable is that the show picks out the finalists based on who can actually make it to a taping. I get that people have busy lives, but if Oscar winners can have someone else accept their award, you would think America's Funniest Home Videos would be able to extend the same sort of courtesy.
Instead, the series often picks finalists based on who is around and willing to attend a taping of America's Funniest Home Videos. I guess I never really thought about the nuances of taping an episode of AFV, but this wouldn't be the first time that an unscripted series took some flack for being a little bit unrealistic. Tom Bergeron is no longer with the long-running series, so it's hard to tell if this is still how the viral video series picks its winners now that Alfonso Ribeiro has taken over, but if something isn't broken, you certainly don't fix it. We're just going to just go ahead and assume the show still works on this sort of "TV magic" today.
So, if you see a really funny video on America's Funniest Home Videos and you can't for the life of you understand why another, much sillier video was called out as a finalist, we're here to say: it's not your sense of humor. It's more likely that someone from the truly funny video couldn't hop on a plane to attend a taping of the show. Whew, we feel a lot better now. You can check out more interesting comments like these in the recent Tom Bergeron Reddit AMA.
America's Funniest Home Videos is currently on hiatus, but is set to return with the rest of your favorite TV programs this fall. It's currently set to premiere on October 2 at 7 p.m. ET. In addition, you can find out when the rest of fall TV will be premiering with our full schedule.
Reality TV fan with a pinch of Disney fairy dust thrown in. Theme park junkie. If you've created a rom-com I've probably watched it.
Your Daily Blend of Entertainment News
Thank you for signing up to CinemaBlend. You will receive a verification email shortly.
There was a problem. Please refresh the page and try again.