Fox News Accused Of Spying On At Least One Rival Journalist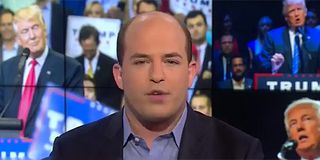 CNN's Brian Stelter currently hosts Reliable Sources, but he's had other gigs over time and has seen all kinds of wacky stuff happen during his career. In a recent interview, the media reporter stated that while working for the cable blog TV Newser, he went on some dates with a Fox News staffer, who he says spied on him and then reported his opinions to her Fox News Bosses. Here's what he said happened:
Not only is Stelter accusing Fox News of sending a cute girl around to spy on him, he even went a step further and said the news network was actually hiring Veronica Mars-style PI's to follow prominent journalists in the field. Later on Twitter he clarified that it may not have been an "effective" operation, but he's sticking to the story that it was something that did happen. He also said that employees who work or have worked for Fox News have been or were concerned that they were being wiretapped and were wary of making any criticisms regarding the brand. Obviously, much of this is just Brian Stelter's comments and experiences on the matter, but it's definitely true that Fox News network at least tries to keep a tight lid on its own brand.
All of that is changing thanks to the sexual harassment allegations that started with Gretchen Carlson and led to the eventual firing of Fox News head Roger Ailes. Media Matters reports that Brian Stelter and Bill Carter both spoke out about the nearly unbelievable tactics the network would use to spy on other reporters as part of a larger conversation that CNN was having about the problems Fox News is currently facing. At one point, one of the individuals on the round table does mention that "we've seen no proof" to back up many of these allegations, but it's certainly got to be dicey over at the network right now.
When Roger Ailes resigned, the company tried to put a good spin on his exit, even thanking him for his contributions to Fox News, Fox Business Network and other Fox stations over the years. However, while that's been happening, more allegations have come out, and it looks like the tide won't be changing anytime soon. Plus, with headliners like Bill O'Reilly, Megyn Kelly and others potentially leaving, we wonder if any more big shakeups will happen at the network.
Reality TV fan with a pinch of Disney fairy dust thrown in. Theme park junkie. If you've created a rom-com I've probably watched it.
Your Daily Blend of Entertainment News
Thank you for signing up to CinemaBlend. You will receive a verification email shortly.
There was a problem. Please refresh the page and try again.