Rick And Morty Recorded A Mini-Episode To Get You Pumped For Season 3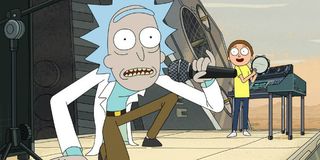 Wubba lubba dub dub, Rick and Morty fans! If you're anything like us, then you already know that the wait for the third season of the now iconic sci-fi series has become nothing if not tortuous. All we want in our lives is more of Rick Sanchez and Morty Smith, and the folks behind the series seem to have realized that. The cast of Rick and Morty recently assembled to improvise a live mini-episode of the series, and it's pure, unadulterated bliss. Check it out below.
The above video opens with Spencer Grammer, Justin Roiland, Dan Harmon, and Ryan Ridley sitting in a circle as Harmon introduces the premise of the improvised episode. Opening on Rick toiling away in his garage, Grammer and Roiland share an exchange about Summer Smith wanting Rick's help with her college application process. Rick exhibits his trademark apathy for the matter, instead focusing on an experiment in which he injects "120 cc's of feces" into Morty's knees and replacing Morty's lower legs with jet packs. It's Rick; don't question it.
Rick's experiment proves so impressive to the Harvard Dean of Admissions (Ryan Ridley) that Summer actually gets a full scholarship to Harvard -- because apparently that's how college works. The cast then narrates a montage of Summer studying at Harvard, gaining a higher education, and even shooting John Lennon in the process. When she returns home she finds that the experiment has killed Morty, but Rick replaced his young sidekick with a "new Morty," whom is actually just an eyelash floating around the room. Eventually a cow-headed demon named Nebutron arrives in the garage and uses eyelash Morty to wish the garage directly into outer space -- cut to: the beginning of The Rick and Morty Movie.
That "mini-episode" is weird even by Rick and Morty standards, but that doesn't make it any less hilarious. The cast of the Adult Swim cartoon seems to have a natural knack for improvisation, and that likely has something to do with the way in which episodes of Rick and Morty get made. Rather than using tightly honed scripts, Rick and Morty uses a process known as "retroscripting" which means that the actors receive a basic outline of an episode and they pretty much improvise the dialogue so that animators can work around them. It's one of the reasons why the characters on Rick and Morty stutter so much when they talk, and it's also a major factor in the show's zany tone.
We will say this: this mini-episode has only continued to stoke our excitement for Rick and Morty Season 3. No official release date has been announced for the third season of the beloved Adult Swim series, but it's expected to return before the end of the year. For now, make sure to check out our fall TV premiere schedule and mark your calendars appropriately.
Originally from Connecticut, Conner grew up in San Diego and graduated from Chapman University in 2014. He now lives in Los Angeles working in and around the entertainment industry and can mostly be found binging horror movies and chugging coffee.
Your Daily Blend of Entertainment News
Thank you for signing up to CinemaBlend. You will receive a verification email shortly.
There was a problem. Please refresh the page and try again.