Watch Callie Crack Jokes During A Bad Time In Unreleased Grey's Anatomy Footage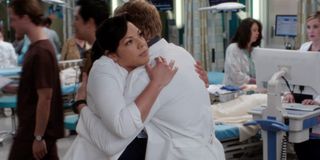 If you've been watching Grey's Anatomy for the last twelve seasons, or really any portion of the last twelve seasons, you are probably familiar with Callie Torres, who made plenty of fierce and bold choices---especially in relationships---during her time on the ABC drama. Following a wild custody battle for her kid during Season 12, Callie ultimately opted to leave the hospital, but now we have one last look at the character, thanks to a brand new deleted scene from the Grey's Anatomy: The Complete Twelfth Season DVD. You can check out the exclusive clip, below.
In the clip, Callie meets up with Owen to joke about an old cupcake she found and was using to bribe her way back into his good affections. It's a reminder of how quirky and amusing Callie can be when she isn't at her worst. The not-too-happy glances that Arizona is giving them as she goes about her workday is also a reminder of how quickly the two co-parents' relationship fell apart as Callie began dating Penny and attempting to make big life decisions that would pull her daughter away from Arizona. This is not a happy face:
The exclusive clip also features a pregnant April, who comes to get Owen to deal with an Amelia situation. If you finished Season 12---and yes I'm about to get into spoilers---you should know that April and Jackson had a particularly tough season, as April hid news about having a baby from him for a good chunk of the episodes. This deleted scene is from later in the season when the cat was already out of the bag, and by the finale April and Jackson had decided to co-parent and April actually had her baby girl in a harrowing home birth that featured Ben doing some crazy stuff to save both April and her daughter's lives. That story basically ended well, but things between Callie and Arizona totally fell apart, leading to Callie leaving the hospital and the series, although their story ultimately ended up OK, as well.
The clip comes from the deleted scenes on the Season 12 DVD set, which is being released on August 30, 2016 by Walt Disney Home Entertainment. You can order your own copy of the DVD set here.
In addition, Grey's Anatomy is scheduled to return to ABC for Season 13 in the coming weeks, and we already know the series has big plans for the new episodes. Namely, the show wants to return to its roots and have some big storylines related to the original characters that make up the show's foundation. It's clear Callie Torres--or at least the drama she brings--will be missed, but as this show has always done after a big character exit. The show will go on. Catch new episodes on Thursday, September 22 at 8 p.m. ET.
Your Daily Blend of Entertainment News
Reality TV fan with a pinch of Disney fairy dust thrown in. Theme park junkie. If you've created a rom-com I've probably watched it.