13 Celebrities Who Were Banned From Saturday Night Live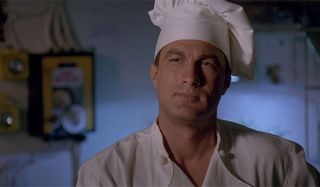 Throughout its 41-year history on the air, Saturday Night Live has seen a gigantic number of celebrities cross its stages, from the casts to the guest hosts to the musicians, and everyone in between. A lot of those people are held in high esteem in Studio 8H, such as Phil Hartman and Tina Fey, but not everyone has been that lucky. In fact, there have been quite a few individuals over the years who went in the complete opposite direction in terms of good graces, finding themselves on the short end of a long exile. Here are 13 entertainers who have been banned by Saturday Night Live over the years.
Sinead O'Connor
Let's begin with arguably the most iconic Saturday Night Live moment to inspire a lifetime ban, as well as one of the series' most memorable moments ever. While Irish singer-songwriter Sinead O'Connor made it through her 1990 appearance without turmoil, her 1992 return was a bit more eventful. Things were going as planned during her a capella cover of Bob Marley's "War," until she pulled the rug out from beneath everyone, using the moment to protest the Catholic Church for the child abuse allegations making headlines at the time, most notably by ripping up a picture of Pope John Paul II. Lorne Michaels even let her say good night with the rest of the cast, and he was chastised accordingly.
Has She Been Back On The Show? Not outside of a Jan Hooks impression.
Steven Seagal
Most people need to do something really unexpected or really terrible to get banned from somewhere, especially a comedy show. But all Steven Seagal had to do was be unexpectedly terrible at comedy. Like, really bad. Like, "worst host in Saturday Night Live history" bad. When the Above the Law star took on the gig in 1991, he was apparently troublesome behind the scenes, where he tried to shoehorn his own sketch ideas into the episode. And as far as his actual performances went, I assume one would be more amused by any movie he's released in the past 10 years. Some versions of the episode have reportedly been edited specifically to chop out some of Seagal's scenes.
Has He Been Back On The Show? Steven Seagal has been impersonated by the likes of Will Ferrell, Bill Hader and more, but he never made it back in the flesh.
Adrien Brody
In 2002, Adrien Brody went from promising actor to mainstream star with the Best Actor win for his fantastic performance in The Pianist. A little over a year later, it was once again a performance of his that people were talking about, but this time only a ban was granted. Brody hosted a 2003 episode with apparently zero knowledge about how much Lorne Michaels dislikes improvised introductions, because the actor sure enough improvised his introduction. Might have gone better had it been amusing and done while not wearing faux dreadlocks in reference to the night's musical guest Sean Paul. While I can't say if being unfunny is worth a ban, this is still a cringe-worthy 45 seconds.
Has He Been Back On The Show? That is a negative, outside of Taran Killam's impersonation.
Elvis Costello
Most 23-year-old musicians would probably treat an appearance on Saturday Night Live as the holy grail of early-career opportunities, but Elvis Costello has never been like most musicians. Booked for a December 1977 appearance, Costello was told that he could not play the anti-media song "Radio Radio" that he wished to play, and was instead instructed to perform the popular single "Less Than Zero." Well, the latter song got performed for all of 30 seconds before Costello abruptly ended it and reverted to playing "Radio Radio." Because Lorne Michaels is not the world's biggest fan of surprises, he gave Costello the boot. But not forever.
Has He Been Back On The Show? Yes indeed. Just twelve years later, in 1989, Michaels lifted the ban and brought Elvis Costello back for the episode Mary Tyler Moore hosted. He returned again in 1991 and, perhaps most memorably, mocked his own "Radio Radio" mischief during the show's 25th Anniversary special with the Beastie Boys.
Frank Zappa
With a music career that spanned over three decades and dabbled in a number of different genres, Frank Zappa and his boundless talent continue to influence musicians the world over. But Zappa wasn't influencing anyone on the set of Saturday Night Live during his 1978 appearance as both a host and musical guest. Though his previous musical SNL gig went well, it was the hosting side where everything soured. His anti-drug stance butted heads with the various cast members' habitual imbibing, and he spent time in several of his sketches looking into the camera to tell the audience that he was reading from cue cards. While some may have been amused, Lorne Michaels wasn't, and Zappa was exiled.
Has He Been Back On The Show? While Dana Carvey gave a couple of Frank Zappa impressions, the musician never returned to SNL, dying in 1993 of prostate cancer.
Martin Lawrence
Comedian Martin Lawrence was having a pretty fantastic year in 1994, thanks to his eponymous Fox sitcom and his standup career. So I guess he can maybe be forgiven for being optimistic about giving audiences a Saturday Night Live opening monologue like they'd never seen. Unfortunately, his strategy was to focus entirely on female genitalia in the raunchiest way possible, which few appreciated, and he also ad-libbed during the show itself - an already frowned upon act - when he called popular character Stuart Smalley an "ass pirate." Even beyond the ban, Lawrence's entire opener was removed from repeats and syndicated versions.
Has He Been Back On The Show? That was Martin Lawrence's one and done on the sketch comedy show.
Rage Against the Machine
Compared to later music acts on this list, the ban against politically motivated rap-metal band Rage Against the Machine seems like an inflated gesture on Lorne Michaels' part, but some people can't deal with this kind of palpable subversiveness. The band appeared on a 1996 episode that was hosted by Steve Forbes, who had his eye on the White House at the time, and following the performance of their first song ("Bulls on Parade"), the band hung upside down American flags from their amps to protest the conservative Jobs being the guest host. The flags and the band members were promptly removed from the stage and subsequently banned. Ballsy move, though.
Have They Been Back On The Show? Nope, but that would have been something if Rage Against the Machine had been booked for the episode Donald Trump hosted. It would have resulted in the apocalypse, but what an episode, right?
Louise Lasser
The first host to get banned from Saturday Night Live, Mary Hartman, Mary Hartman actress Louise Lasser perhaps should have gotten a second shot at leading an episode, but her efforts at the end of Season 1 were so awful that she got the boot without hesitation. Lasser was apparently going through some things at the time, as her performance was erratic and listless at best, and she clearly wasn't all in on it. It's not like the talented cast could really help her, either, since she flat-out refused to appear in sketches with anyone besides Chevy Chase. (Lorne Michaels did make a presumably unplanned appearance during one "sketch" where she complained about not remembering her lines.) The episode was so terrible in Michaels' eyes that he never wanted it to make it to reruns.
Has She Been Back On The Show? She has not.
Cypress Hill
If you were a young-ish person smoking weed back in 1993, there's a good chance you were listening to Cypress Hill songs 20% of the time. Their cross-culture popularity landed them a spot on Saturday Night Live, and that performance was begging to be shut down before DJ Muggs whipped out a joint and started blazing up on stage. But it was the end of their performance of "I Ain't Going Out Like That" when their future on SNL, or lack thereof, was cemented, as the band trashed the instruments and the stage. Unlike the song says, they did go out like that, as Lorne Michaels put a moratorium on Cypress Hill.
Have They Been Back On The Show? In the past 23 years, I'm sure the guys from Cypress Hill have been back on a lot of stuff, but Saturday Night Live isn't one of them. (Fun fact: that episode's host Shannon Doherty hasn't returned either.)
Chevy Chase
One thing you can say about Chevy Chase is that he's extremely easy to get along with and never lets his ego get in the way. Wait, that's two things, and neither one is true. One of the pioneers of Saturday Night Live, Chase did not remain with the show very long, and his attitude problems struck people the wrong way during his tenure on the show. Still, he returned as guest host several times. However, each appearance was coupled with reports of his horrible behavior backstage, leading Lorne Michaels to ban Chase as a host following his 1997 appearance. (Chase reportedly slapped Cheri Oteri on the back of the head.) But has that stopped him from returning? See below.
Has He Been Back On The Show? You can't keep a Chevy Chase down, since audiences eat it up when he's around, and his ban was specifically geared to his duties as a guest host. His four successive appearances have all been in a cameo capacity.
Andy Kaufman
Andy Kaufman never made it easy for audiences to get in on the joke, and he often didn't make it clear there was even a joke involved. It made him a comedic genius, but it also did a disservice to his career at times, which is how he came to get the most disappointing and arguably the strangest of all the Saturday Night Live bans. Kaufman performed his trademark oddities on Saturday Night Live several times (leading to his Taxi gig), but when Dick Ebersol was running things in 1983 during Lorne Michaels' hiatus, he had the abysmal idea to poll audience via phone to dictate whether Kaufman would appear on the show again or not. Audiences voted no. People are the worst.
Has He Been Back On The Show? Despite cast members' complaints and Andy Kaufman's own public attempts to win his way back on the show, it didn't happen, and he died of lung cancer the next year.
Milton Berle
If you cracked open Milton Berle's DNA, I'm pretty sure it was just two strands of one-liners wrapped around each other, and while that jokes-on-jokes approach is what kept him a star from his radio days up until his death, it most certainly did not mesh well with the counter-culture vibe of Saturday Night Live. Berle's 1979 appearance did not go splendidly for everyone (except for maybe Berle himself, who seemed to be having a blast), and he signed his ban warrant by repeatedly going off-script and mugging directly into the camera. It would have been interesting to see Berle and Chevy Chase attempting to upstage each other for an all-night telethon.
Has He Been Back On The Show? No, and he wasn't ever front on the show either. Eesh, tough crowd. Berle died in 2002.
Fear
Here's the cream of the crop when it comes to music acts getting banned, folks. The hardcore punk band Fear landed their Saturday Night Live gig as a half-favor from former cast member John Belushi after the band was fired from the soundtrack to his film Neighbors, and that should have been a sign to SNL producers that bad things were coming. For the Halloween 1981 episode, Fear took the stage with their own group of set-destroying slamdancers - allowed only because Belushi (among the dancers) agreed to be in the episode - and proceeded to play offensive songs, at one point telling the New York City crowd that it was "great to be in New Jersey." The performance, unseen by TV audiences, allegedly caused between $10,000 and $20,000 in damage, and led to not only an SNL ban, but a killer reputation.
Have They Been Back On The Show? Oh, no. No, no, no, no, no.
Your Daily Blend of Entertainment News
Assistant Managing Editor
Nick is a Cajun Country native, and is often asked why he doesn't sound like that's the case. His love for his wife and daughters is almost equaled by his love of gasp-for-breath laughter and gasp-for-breath horror. A lifetime spent in the vicinity of a television screen led to his current dream job, as well as his knowledge of too many TV themes and ad jingles.
Your Daily Blend of Entertainment News
Thank you for signing up to CinemaBlend. You will receive a verification email shortly.
There was a problem. Please refresh the page and try again.