How Many Hours Of Commercials Netflix Saves Kids From Watching Each Year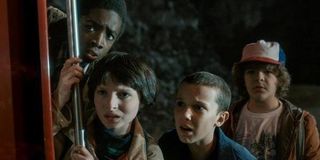 It's safe to say that streaming services like Netflix and Hulu have fundamentally changed the game when it comes to television. Although neither of those platforms has supplanted traditional broadcast TV just yet, they've made serious changes to the way in which we consume content. One of the most notable things that separates Netflix from standard TV is the lack of commercials, and we've started to see quantifiable differences in how we take in television. As it turns out, you could potentially save your child hundreds of hours annually by skipping commercials and having them watch Netflix instead of traditional TV.
According to a new report from Exstreamist, it appears that streaming services such as Netflix keep children from seeing roughly 150 hours of commercials every year. The report indicates that children (ages 2-18) watch roughly 1.8 hours of television per day on a given streaming service. After some minor number crunching, this averages out to around 650 hours of consumed streaming content per year. By subtracting the average 14 minutes of commercial breaks per hour of standard television, the child has saved roughly 150 hours of commercial time annually.
Believe it or not, I think there could be a few major advantages to lessening a child's exposure to such high levels of advertising. For starters, I would bet that this could actually reduce the occurrence of materialism among children, as they're not bombarded with constant ads telling them that they need to buy a given toy. The Don Draper's of the world will soon need to work much harder in order to make us think that we actually need a product.
I'm also of the opinion that the reduction in advertisements could have long-term health benefits for youngsters, as they're no longer constantly exposed to commercials for sugar-filled snack items. Maybe our kids won't be as ravenous for Snack Packs as the gang from Stranger Things in the 1980s. Over time this could even lead to a reduction in rates of childhood obesity -- although far more testing would need to be done to confirm such a theory.
It's also worth noting that the time saved by not watching 150 hours of commercials could potentially increase productivity. We will never get our kids to stop watching television altogether; that's simply not realistic. However, cutting out the sheer number of commercials that kids have to sit through could potentially go a long way towards freeing up time, while still affording children the opportunity to consume modern culture through television.
It's not just the children who reap benefits from this sort of change in television consumption; adults also seem less exposed to advertisements. A previous study reported that, on average, adults save roughly 130 hours of commercials annually by watching streaming content. If that's true, then all of the aforementioned benefits could still apply.
There's no question that streaming services have started to change the modern television landscape. TV has evolved in ways that many of us never would have imagined a few years ago. One thing is certain: the next generation will not have to sit through hours of commercials like we did. I wonder what they will do with all of that extra time?
For now, make sure to check out our fall TV premiere schedule and fill out your calendars accordingly!
Your Daily Blend of Entertainment News
Originally from Connecticut, Conner grew up in San Diego and graduated from Chapman University in 2014. He now lives in Los Angeles working in and around the entertainment industry and can mostly be found binging horror movies and chugging coffee.
Your Daily Blend of Entertainment News
Thank you for signing up to CinemaBlend. You will receive a verification email shortly.
There was a problem. Please refresh the page and try again.