What Really Happened With South Park And Isaac Hayes, According To His Son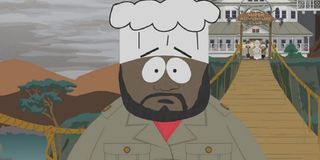 South Park just kicked off its twentieth season last night, and in its time on the air on Comedy Central, the series has mostly been a close-knit family. However, there was a time when an actor publicly quit South Park. Back in 2006, Isaac Hayes, who played Chef on the long-running comedy series, issued a lengthy statement disapproving of the series and quitting South Park in one fell swoop. At the time, rumors indicated someone from the Church of Scientology may have released the statement on behalf of Hayes. Now, 10 years later, Hayes' son Isaac Hayes III has finally explained exactly what happened when "Chef" left the series. Here's what he had to say:
In an interview with THR, Isaac Hayes III opened up about exactly what happened with his father nearly a decade ago as part of a retrospective on South Park. The show's creators, Trey Parker and Matt Stone, also confirm the above comments are what happened, noting too that at the time it really sucked to have to be called a vehicle for "intolerance" and "bigotry" but that they kept the faith that those weren't things Hayes Jr would ever have spoken about the series that made him laugh and gave him a steady paycheck.
Isaac Hayes Jr. died back in 2008. He had suffered a stroke at the time the statement was released and he was notably quiet about the incident before he passed away. Two years later he died after suffering another stroke. Because he didn't really speak much about Scientology or the end of his role on South Park, it's impossible to know what he was thinking or feeling about what happened. Regardless, his son certainly has strong opinions about what happened:
It's clear that Isaac Hayes was a devoted Scientologist, but he was also a devoted musician and a lover of comedy---an equal opportunity satirist. Unfortunately, his role on the Comedy Central series has been marred somewhat by one statement that was released a decade ago. The good news is the South Park creative team is still around to rectify that.
New episodes of South Park air on weeknights at 10 p.m. ET, only on Comedy Central.
South Park may be notorious for taking on every hot button issue and stupid trend, but the creators recently came out and said they WILL NOT make fun of one of entertainment's biggest stories of 2016. To find out why they won't go there, click over to the next page.
Ever since the summer started, it's been almost impossible to walk around a mall, city street, doctor's office or even Antarctica (probably) without getting bumped into by someone holding their mobile device out in front of them as they played Pokemon Go, one of the year's biggest success stories. That means South Park creators Trey Parker and Matt Stone are also targeting the many monsters for a fantastic upcoming episode, right? Not the case at all, actually, and there's a damned good reason for it, according to Parker.
Yes, most fans will recall that classic Season 3 episode "Chinpokomon," which saw the South Park boys getting addicted to the monster-hunting franchise without realizing they were being led by subliminal messages. It's certainly subject matter that could be revived for the technology of 2016, but the basics were already captured quite succinctly 17 years ago, so there's no necessity attached to returning to it. Besides, the show is currently invested in serialized storytelling and a presidential election, so nobody has time for games!
For the full story, (Pokemon) go head and click here.
Your Daily Blend of Entertainment News
Reality TV fan with a pinch of Disney fairy dust thrown in. Theme park junkie. If you've created a rom-com I've probably watched it.