Chef Returns To South Park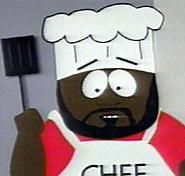 By now you've been beaten to death by the news media's coverage of Isaac Hayes' departure from 'South Park'. Isaac Hayes, who voices Chef, quit in protest over what he described as Trey Parker and Matt Stone's anti-religion stance. Odd, since the show has made it their business to lampoon organized religion from day one. Odder still since it was only recently that they began making fun of Hayes' own wacky religion: Scientology.
Well, it looks like 'South Park' is going on, but with Chef. Zap2It reports that the very next episode of 'South Park' will be called "The Return of Chef". Chef returns to town after an absence, and the boys of South Park notice something different about him. Could it be his voice? Or has Hayes changed his mind and come running back?
Reports vary. Some say the statement that Hayes quit never came from him in the first place, others say he just took time off to recover from a stroke and it was completely overblown. Or, maybe he just realized he needed the money and quitting made him look really bad, and came running back. Or maybe he's been replaced.
One of the really great things about 'South Park' is that the show is so easy to make, they can crank out new episodes in just a few days. In this case, Parker & Stone are using that quick turnaround time to have the last laugh on this one, with or without Hayes' cooperation. Their impending lampoon comes amidst rumors that Tom Cruise had a hand in forcing Viacom to pull their Scientology mocking episode from rerun rotation and that Hayes' departure from the show may have been forced by the Church of Scientology's alien loving hierarchy. I'm picturing a lot of little guys in purple hoodies, how about you?
'South Park's' season premiere "The Return of Chef" debuts on Viacom owned Comedy Central this Wednesday.
Your Daily Blend of Entertainment News
Thank you for signing up to CinemaBlend. You will receive a verification email shortly.
There was a problem. Please refresh the page and try again.