Watch A Pronunciation Fail Cost A Guy A Million Dollars In Classic Wheel Of Fortune Moment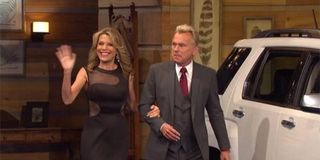 Wheel of Fortune isn't exactly the world's most difficult game show. There's an element of luck involved---especially when avoiding bankruptcy on the board---and contestants do generally fare better if they are familiar with a variety of phrases and are good at spelling. This week, we're looking at the time one contestant showed us the importance of understanding phonics and how to pronounce words when he lost the chance at $1 million dollars because he couldn't pronounce Achilles. You can check out the exciting and then very painful segment, below.
A while back, Wheel of Fortune introduced a wedge with a $1 million dollar prize listed on it. Because the wedge is surrounded on two sides by bankruptcy wedges, it's a really difficult prize to hit in the first place. When someone does land on the piece, in order to keep it, they have to then solve the puzzle and make it to the bonus round, where it's added to the potential prizes the contestant can win. During this classic Wheel of Fortune setup, the young man does what he has to to set himself up for the bonus round. He lands on the correct wedge. He guesses the letter "L," which enables him to complete the puzzle. Then, in one fell swoop it all disastrously ends.
The answer to the puzzle is "mythological hero Achilles," a famous character in Greek lore, who is known for being a hero during the Trojan War. He's also a character that appears in the famous Homer work The Iliad. He eventually was shot with an arrow in the heel, which led to the popular phrase "Achilles heel." Even if the student, Julian Batts, didn't know the myth, he should have known the phrase. And it was reportedly nerves that got to him, not his lack of knowledge about Greek myths.
It was one of a few gaffes the college student made during the now-famous episode of Wheel of Fortune and they've all been combined together for one insane video. It should be noted though that the player, Batts, did make it to the bonus round despite his several large gaffes---including one that may have cost him a million dollars.
Only a few Wheel of Fortune contestants have actually won the million dollar prize since it was introduced in 2008. The last win happened a couple of years ago when a middle school math teacher solved the final puzzle. Her win is undeniably uplifting, and should be a good watch if you are still reeling from the confounding response above. Hopefully, we won't see an epic fail of this ilk anytime soon again.
While Wheel of Fortune is aging, the show has already been renewed through 2018, so it isn't going anywhere. If it's not your cup of tea, there are quite a few new game shows in the works right now. We recently learned a remake of The Gong Show has been ordered, and ABC has done really well with its summer lineup of games programs. Find out what else is coming to TV with our fall TV premiere schedule.
Your Daily Blend of Entertainment News
Reality TV fan with a pinch of Disney fairy dust thrown in. Theme park junkie. If you've created a rom-com I've probably watched it.