Why Legends Of Tomorrow Could Make A Major Character More Like The Comics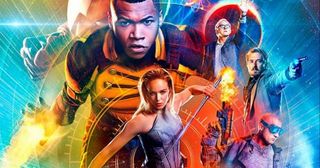 Warning: MAJOR spoilers for tonight's episode of Legends of Tomorrow; don't read any further if you are not up to date!
With each passing week, Legends of Tomorrow continues to double down on the notion that it's definitely not messing around this season. The bizarre time-travel series has carved out a proper niche for itself as The CW's go-to place for absolutely bonkers sci-fi antics, and each member of the team is really starting to solidify his or her proper roles. Things seem to be coming together as time wears on, and it now seems an opportunity has opened up to finally embrace the comic book source material even more. Although Ray Palmer lost the A.T.O.M. suit during the events of tonight's episode, it now seems more likely than ever that Legends of Tomorrow will soon turn him into The Atom that comic book fans will truly recognize by giving him the character's proper suit.
Before we go any further, let's get up to speed. While testing out the new powers of Nate Heywood, a.k.a Citizen Steel, the newest member of the Legends team accidentally found himself catapulted through time into feudal Japan. Ever the Boy Scout, Ray Palmer leaped into action to save the rookie, only for his Atom gear to fall into the hands of a violent Shogun warrior. After a game of cat and mouse, as well as a series of potentially deadly encounters, Ray eventually makes the heroic decision to sacrifice the tech-heavy duds in order to prevent it from falling into the wrong hands -- thus ending the current incarnation of The Atom's suit.
This was arguably one of Atom's biggest moments of the entire series for a number of reasons. For starters, Ray Palmer finally proved to himself than he as a hero is more than the sum of circuits and gears that power The Atom suit. But on a more superficial level, this seems like a possible indicator that the Arrow-verse may finally introduce the sleeker Atom outfit that Ray Palmer is known for wearing in the comics. If it happens, this means less wires and shiny surfaces and more spandex.
Right now you're probably thinking: why didn't they just give Ray a more faithful Atom outfit from the get-go? As it turns out, the Arrow-verse didn't always intend on bringing Ray Palmer into the fold. Numerous reports have indicated that Brandon Routh was initially cast with the intention of introducing another billionaire into the equation: Ted Kord a.k.a Blue Beetle. Prior to the premiere of Arrow's third season, Ted Kord had to be scrapped for behind-the-scenes reasons, and the character Ray Palmer was quickly brought in to fill the void.
Ray's initial suit made quite a bit of sense when looked at through a Blue Beetle lens. It was highly armored; it carried a number of offensive and defensive weapons, and (perhaps most importantly) it never even shrank during the third season of Arrow. In many ways, it always felt like the folks behind these shows wrote themselves into a corner by not planning on using Atom from the very beginning. For comic comparisons sake, the Arrow-verse's Ray Palmer has really been more Iron Man than Ant-Man up until now, with the occasional shrinking thrown in here and there. Now it seems like that's all about to change with Legends firmly establishing who Ray Palmer truly is within this universe. I say bring on the red and blue tights!
Whether or not Ray Palmer's new suit will actually resemble his comic book counterpart remains to be seen, but as of right now that appears to be the direction in which Legends of Tomorrow is heading. Make sure to catch the adventures of the time travelling band of misfits (totally a better title for the show) every Thursday night at 8 p.m. EST on The CW. For now, you can check out our comprehensive fall TV premiere guide and fill out your TV viewing schedules accordingly!
Your Daily Blend of Entertainment News
Originally from Connecticut, Conner grew up in San Diego and graduated from Chapman University in 2014. He now lives in Los Angeles working in and around the entertainment industry and can mostly be found binging horror movies and chugging coffee.