Legends Of Tomorrow: Everything We Know About The Arrow Spinoff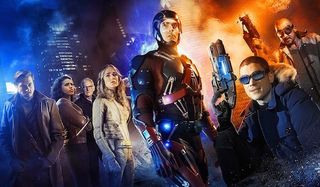 With Arrow having wrapped up its third season and The Flash its first, both shows are deep into building the DC TV universe on The CW, and soon they will be joined by a third series that will kick things up to the next level. Originally announced early in 2015, the now-titled DC's Legends of Tomorrow has earned a series order from the network. Featuring both established players from Arrow and The Flash as well as new DC characters, the show is possibly the closest we'll ever get to a Justice League live-action TV series (ignoring that awful 1997 pilot, or course). The crossovers between Arrow and The Flash this past season have been impressive, but to have an entire series revolving around heroes AND villains working together to defeat a common threat will no doubt be enticing to both hardcore comic book enthusiasts and fans of Arrow and The Flash. Superheroes, sci-fi, action, colorful costumes, witty banter, it'll have it all.
It will be a while until Legends of Tomorrow hits the airwaves, but fortunately there's enough information to chew on in the meantime that has come out over the past several months, from who the main players will be to the reason they have banded together. Here's what we know so far.
When Will It Air?
The show won't start airing around the same time as Arrow or The Flash. Instead, The CW is doing the same thing with Legends of Tomorrow that ABC does with Agent Carter: saving it for midseason. The series will premiere in January 2016 and will run for 13 episodes. Filming is currently underway, and behind-the-scenes photos from the cast and crew have alredy found their way online, like script readings. Depending on the exact premiere date and possible scheduling breaks from the network, this means it will run until sometime in April, or maybe even early May. Because it's a midseason show, The CW hasn't yet revealed what night it will air or which timeslot it will get, so we'll to wait and see which show Legends of Tomorrow will be paired with next year.
What's It About?
Arrow and The Flash have their titular heroes protecting their respective cities, but the protagonists in Legends of Tomorrow will be responsible for protecting the planet and all of time itself. According to the official synopsis released by the CW, time traveler Rip Hunter (as seen above) will assemble a group of heroes and villains to prevent the future he's seen from happening. This group of "legends" will work together to defeat the immortal threat Vandal Savage (more on him later), who is unlike anything they have ever seen. The synopsis is mostly vague, but it does get the point across that the stakes are higher for these "legends."
What Have We Seen So Far?
The Legends of Tomorrow pilot has only just started filming, so it will be a while until we see footage from the actual episodes. However, at the Upfronts, the CW released a trailer that combines recycled and original footage. It features most of the main heroes meeting each other for the first time and sets the stage for who and what they will be dealing with. Think of it like a traditional Pixar teaser trailer: the content won't be in the project, but it gives the audience a sense of what's coming. There are also several scenes featuring the heroes fighting masked men armed with laser guns and a hint of something even more dangerous. Oh, and for those of you who have been waiting to see Ray Palmer finally shrink like The Atom from the comics, the final seconds will no doubt be pleasing.
There was also a behind-the-scenes featurette uploaded shortly before the trailer came out featuring interviews with the actors and quick shots of the trailer's action sequences being filmed.
Who Are The Established Characters?
Unless you don't tune into Arrow and The Flash, you'll likely at least recognize most of the main players in Legends of Tomorrow. First up is Ray Palmer, a.k.a. The Atom, played by Brandon Routh. Ray was introduced in Arrow Season 3 as the billionaire inventor who bought Queen Consolidated and named it Palmer Technologies. He became a superhero in his own right after he developed the A.T.O.M. suit with the help of Felicity Smoak, and near the end of the season became an invaluable ally to Team Arrow. In the Arrow Season 3 finale, Ray was implanting nanotech in his suit, which caused his office to suddenly explode. Obviously we know he's okay, and his dialogue in the trailer suggests that he was able to survive by finally shrinking, although they may be referring to another moment where he almost died.
Next up, we have Arrow's Caity Lotz returning as the resurrected Sara Lance. When this spinoff was first announced, it wasn't disclosed whether Lotz would be playing Sara or another character, but as this trailer showed us, she's playing Sara that will be brought back to life in the Lazarus Pit during Arrow Season 4. Now going by the codename White Canary, Sara's personality is expected to be much different than the last time we saw her, though that's not surprising considering that the Lazarus Pit is known for changing the people it brings back to life.
Then there's Dr. Martin Stein, played by Victor Garber. On The Flash, Stein forms one half of Firestorm, the other half being Ronnie Raymond, played by Robbie Amell. What's weird about Stein's inclusion on Legends of Tomorrow is that since Amell won't be part of the main cast (though that doesn't mean he couldn't appear at some point), it was believed that this meant that Stein wouldn't be able to become Firestorm. However, the trailer did show Firestorm in action, so now the question is how this is possible. Perhaps Stein has found another person to merge with, or maybe Stein is able to transform on his own now. Either way, it looks like he'll be able to get his superhero on.
Finally, we have fire and ice…sorry, cold, duo Leonard Snart, a.k.a. Captain Cold, and Mick Rory, a.k.a. Heat Wave, played by Wentworth Miller and Dominic Purcell, respectively. Unlike the other people on the team, these two are villains that are high on the list of the Flash's most dangerous enemies. Why these two have been chosen to save the world is unclear since they've proven that they care more about getting that big score than human life, but having them on the team will certainly make for some interesting interactions with the other characters.
If this trailer is any indication, we can also expect Oliver Queen and Barry Allen to appear in Legends of Tomorrow. However, don't expect them to be main characters since they have enough to deal with on their own shows. If anything, their role on Legends of Tomorrow will be limited to guest or recurring appearances.
Who Are The New Characters?
As mentioned earlier, these heroes will be brought together by Rip Hunter, played by former Doctor Who companion Arthur Darvill, a "roguish" member of the Time Masters, an organization that protects history itself. Rip (who was name dropped in The Flash Season 1 finale) has been one of DC's main time travelers since 1959, and this will be his live-action debut. In fact, the only other time he's been seen outside the pages of a comic book was in an episode of the animated series Batman: The Brave and the Bold. Rip is also known for his team-ups with fellow DC time-traveling hero Booster Gold, and given their connection in the comics (Rip is Booster's son in the future), perhaps we could eventually see an appearance from Booster on this show or one of the others.
Second among the newcomers is Kendra Saunders, a.k.a. Hawkgirl, played by Ciara Renée, who cameoed in The Flash Season 1 finale. Kendra is a young woman who has been reincarnated many times over the centuries. Her hidden warrior personality is unleashed when she is provoked, causing her to grow wings from her back and become Hawkgirl. If you were paying close attention to Harrison Wells' newspaper from the future in The Flash episode "The Trap," you noticed that she was mentioned as one of the heroes helping Flash fight Reverse-Flash in the year 2024. She will be joined by Hawkman, played Falk Hentschel, who will also be a regular member of the series. However, unlike Kendra, Carter Hall remembers all of their past lives together as lovers, so when she first meets the latest incarnation of the ancient Egyptian prince, she'll have no idea who he is. That's going to lead to a lot of fighting between those two.
Finally there's Jefferson "Jax" Jackson, played by Franz Drameh, who was not seen in the trailer. In his original character description, Jax was described a former high school athlete whose injury derailed his chances of going pro, and while working as an auto mechanic, he would a surprising affiliation with the S.T.A.R. Labs team, who we've seen on The Flash. When the descriptions for all three characters came out earlier this year, Jay was called the "Mystery Hero,", but his role is no longer a mystery. Jax debuted in The Flash Season 2 episode "The Fury of Firestorm" as Ronnie Raymond's Firestorm replacement. Now connected to Martin Stein, Jax is serving as the new Firestorm, and from what we've seen so far, he's got a bright future ahead of him as the Nuclear Man.
Who Is The Villain?
Before he was identified, the Legends of Tomorrow villain was only said to be "distinct" and a big character who hasn't been used yet. The trailer revealed this distinct antagonist as Vandal Savage, who was created in 1944. In the comics, Savage was a caveman who was exposed to a radioactive meteorite that increased his intelligence and made him immortal, though he is still vulnerable to external harm. Having lived for tens of thousands of years, the super villain not only has subtly influenced the course of history, but also obtained millennia of knowledge on different subjects, making him one of the most dangerous villains in the DC universe. His appearances in other media include the animated shows Justice League and Young Justice, as well as being the main villain in the animated movie Justice League: Doom.
Danish actor Casper Crump will play Savage in Legends of Tomorrow. This version of the character is described as "having spent the past 6,000 years moving like a virulent disease through history," and his manipulation of powerful individuals over the millennia have all been key steps towards his aspirations of conquering the world. In order for the legends to defeat him and his gigantic army, they will have to travel through time and fight past and future versions of Savage. Whatever he has planned, it's going to take these heroes and villains working together to defeat him, and if Rip Hunter is to be believed, they'll be successful. Now comes the hard part… actually doing it!
The Flash/Arrow Crossover
Before Legends of Tomorrow premieres, Arrow and The Flash will lay the groundwork for series in their second official crossover, which will air in December. While the plot of the crossover hasn't been revealed yet, fans can look forward to Hawkman and Vandal Savage debuting in those special two episodes. Both shows will spend their early episodes setting up the new status quo for its leading characters. For instance, Arrow will explain how Ray Palmer survived that explosion and also explore the consequences of Sara Lance being revived. Meanwhile on The Flash, the situation with Firestorm will be explained and Kendra Saunders is expected to make an appearance, possibly during the crossover. As executive producer Andrew Kreisberg said, think of the crossover as an unofficial pilot for Legends of Tomorrow.
Your Daily Blend of Entertainment News
Connoisseur of Marvel, DC, Star Wars, John Wick, MonsterVerse and Doctor Who lore. He's aware he looks like Harry Potter and Clark Kent.