Ratings Roundup: Which TV Shows Need To Improve Very Quickly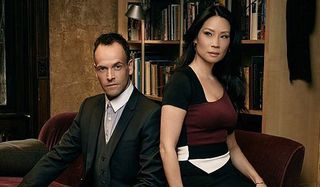 It's sort of amazing that we have reached November and no network has outright cancelled a series, yet. However, some shows are not doing well, at all, at this point. The CW's Crazy Ex-Girlfriend is still the lowest-rated program on network TV and should count its lucky stars it has earned awards notice. Over at ABC, Notorious has already gotten its episode order cut. When that happens, a cancellation is frequently inevitable. Regardless, what about all of the shows that are doing O.K. right now?
This is not a list of shows that are likely to get cancelled. Instead this is a list of shows that are on the bubble and will really need to improve in the weeks to come if they want to get greenlighted for another season. Some of these shows are new, some old, but all are fighting and clawing to beat the other stuff airing during primetime. The key is that they are fighting and clawing to stick around, which means that if you don't see your show on this list, either it is screwed or it's doing well enough that it is already earmarked as likely to be renewed. For your sake, I hope it's the latter.
Elementary, CBS
Sunday nights are often where CBS shows go to die, and die Elementary will if its numbers don't improve. During previous seasons, the 18-49 ratings have been high enough that the Sherlock Homes-oriented procedural has pulled through, but now in its fifth season, the show is most certainly on the bubble. If Elementary wants to squeak through with a sixth season, the show will need to entice people to stick around, and since CBS usually has more pilots than timeslots in a given season, this is one show that is very much a toss-up.
MacGyver, CBS
A few weeks ago, we wrote a story about the MacGyver pilot, noting that more than 11 million viewers tuned in for the premiere. The show at the time nabbed a 1.7 rating, but that has dropped drastically over the last month. Last week the show only did a little over 7 million total viewers and a .9 rating in the 18-49 demographic. Since the network averages ratings, that's not a disaster at this point, but it does indicate that a lot of CBS' Friday night viewers are less and less excited about the show. Still, because the show started with such high numbers---especially for a Friday---if it could just entice a few more viewers, it could continue to fit nicely into CBS' programming for some time to come.
Timeless, NBC
NBC's Timeless is one of the few freshman dramas on this list because it has waffled back and forth between OK and OK minus numbers since it first started airing this fall. It's not getting poor ratings like Conviction nor is it getting good numbers like Speechless. Like most programs, Timeless has dropped in the ratings since it first started airing, but unlike a lot of shows, those drops have been small, meaning the series has, more or less, remained steady since it premiered. It's enough that NBC has increased the show's order a little bit, to 16 episodes, but again that's not the full 22 that more popular series usually get. For now, Timeless will remain a bubble series, because alright ratings never made a show a standout.
Rosewood, Fox
Last season, Fox was pretty high on Rosewood, a procedural that aired with Empire in the schedule. The key thing to note is that it aired with Empire in the schedule and it still only did modestly good ratings. Now that it no longer airs alongside the ratings juggernaut, the numbers have been even lower. The Fox series has seen a little over 3 million total viewers tune in for each of its Season 2 numbers, and last week's episode nabbed a .82 rating. That's not dismal for Fox, but it's certainly a number that could use improving. Maybe splitting up Rosewood and newbie Pitch would help.
Quantico, ABC
Quantico is another show that dazzled us during its first season. The fast-paced drama earned acclaim for its diverse cast and quick twists and turns. It was also a good partner for Once Upon A Time on Sunday nights, as that night has become known for soapier dramas over the last few years. You would think this year would be a repeat of last year, but it hasn't been. Ratings are down, and Quantico is not a lock for next year. Once Upon A Time's ratings are also down, although its numbers aren't quite as bad, so it hasn't been a great year for Sunday night programming on ABC, at all.
Legends of Tomorrow, The CW
Let me start out by saying that Legends of Tomorrow is not the most likely show to be cancelled. We know this because Frequency and No Tomorrow have both been duds on the CW this fall, and The Vampire Diaries is also ending. However, of all of the CW's superhero dramas, Legends of Tomorrow is the most lackluster, and it does the fewest viewers. If the CW is going to cull one superhero program, Legends of Tomorrow would be it. Let's just hope the network doesn't have a ton of great new show ideas for the 2017-2018 TV season.
Hawaii Five-0, CBS
A perennial favorite on these sorts of lists, I'd argue Hawaii Five-0 has the most meh ratings on television. CBS is all about consistency and Hawaii Five-0 is certainly consistent on Friday nights. However, the numbers have never been stellar for this series and over time the numbers have fallen somewhat. Now, the show is reaching its 150th milestone, and members of the cast have spoken out about being ready to say goodbye when the time comes. This one's definitely on the bubble, and one to keep an eye on in the months to come.
The Blacklist, NBC
The Blacklist does pretty good DVR numbers, but it's certainly not achieving the great ratings it earned through its first couple of seasons. Part of the problem is that NBC has shuffled it into a 10 p.m. timeslot following a bunch of its comedies. Part of the problem is that The Blacklist is no longer young, fresh or shiny. It's only in its fourth season and it's only averaging a 1.2 rating right now. It's kind-of the network's flagship program along with Chicago Fire and The Voice, but right now it really needs to see its numbers improve. Perhaps that spinoff will help.
Dr. Ken, ABC
It took ABC a long time to find a companion to Last Man Standing. Shows like Malibu Country and Cristela have come and gone and it was only last year that ABC seemed to have found a steady replacement in Dr. Ken. The two shows complimented one another in styles and in the numbers through last season, but this year, Dr. Ken's numbers have dropped below a 1.0 average for the first time. We doubt ABC will be keen to cancel the series tomorrow, but right now it's looking as if Dr. Ken may not have as long of a shelf life as we would have presumed last season.
Amazing Race & Top Chef superfan with a pinch of Disney fairy dust thrown in. If you've created a rom-com I've probably watched it.
Your Daily Blend of Entertainment News
Thank you for signing up to CinemaBlend. You will receive a verification email shortly.
There was a problem. Please refresh the page and try again.