Timeless Just Got Some Pretty Good News From NBC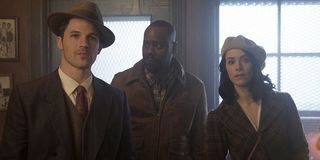 Fall 2016 saw the premieres of an awful lot of new shows, and they've ranged from pretty good to downright difficult to watch. One show that has found a pretty solid audience is Timeless, which was NBC's contribution to the new time travel trend on primetime. Timeless has done well enough in its time slot that NBC has some great news for fans. A full season of the freshman series has officially been ordered.
NBC gave the order for an extra 3 episodes for Timeless Season 1, which will bring the episode count from 13 up to 16. The extension will mean more Timeless in NBC's midseason roster, carrying the series up until the debut of the new action series Taken in February 2017. NBC is looking to solidify and strengthen its numbers for Monday nights; considering that Timeless ranks as the top-rated drama in Mondays this fall, it's not a huge surprise that the network has enough faith in the show to order the bonus three episodes.
Timeless is undoubtedly helped by the fact that the premise ensures the show will likely never run out of stories to tell. Good guys traveling to major points in history to try and stop a bad guy can theoretically last for as long as the writers can come up with times and places to visit. Throw in some crazy period costumes and a compelling cast, and Timeless could have the recipe for success in the long run on NBC. After all, iconic time travel series Doctor Who has been running for more than half a century on a similar premise.
Of course, only five episodes of the show have aired to date, so it's a bit soon to start planning on the show being around for years. Timeless is no Doctor Who, and it's only one of several time travel shows to hit the airwaves this year. It will need to continue to stand out from the rest and find a way to have fun during its jaunts through history if it's going to hold on to an audience. Hopefully the early order for the extra three episodes will mean that Season 1 comes to an exciting conclusion, setting the stage for more stories. Timeless is certainly in better shape than Fox's time travel comedy Making History, which had its episode order cut from 13 to 9 before it even premiered.
The extension of Timeless Season 1 means that NBC will be running the final six hours in a row in 2017 with no pre-emptions or hiatuses. The scheduling should allow the show to build momentum in the last set of episodes in the first season. We can only cross our fingers that it will deliver.
Tune in to NBC on Mondays at 10 p.m. ET to see the latest set of adventures through history on Timeless.
Resident of One Chicago, Bachelor Nation, and Cleveland. Has opinions about crossovers, Star Wars, and superheroes. Will not time travel.