Jeopardy Announcer Johnny Gilbert Reading Off Snoop Dogg Lyrics Is The Best, Check It Out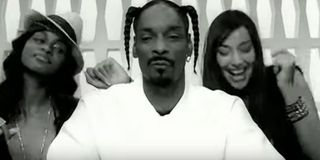 If you're a Jeopardy fan whose dream has been to hear announcer Johnny Gilbert quote Snoop Dogg on the show, well, your prayers have been answered. Tonight's show featured just that very thing, and we'd be terrible people if we didn't pass the joyous moment along to you. Take a look.
You go Johnny Gilbert. Drop it like it's hot, my man! Well, that was a priceless rendition of the 2004 Snoop Dogg classic "Drop It Like It's Hot" if I do say so myself. I'm sure Jeopardy announcer Johnny Gilbert has had to say many odd things in the time that he's been working for the show; he has, after all, been the announcer since the program began in 1984. But, it's not every day you get to hear someone who must be pretty much uninitiated to the ways of Snoop-speak break out one of the famed rapper's popular lyrics. And, well, it would be hard to deny that it's pretty awesome when it happens.
Johnny Gilbert, being the consummate professional, gave his all to Snoop's lyrics. There's not the least hint of embarrassment or hesitation to his reading of the words, and he even manages to make questionable words like "bizzack" and "gizzo" seem like the kind of words that anyone would say at any time, as opposed to being the types of words that only people with a certain level of cool can really pull off on a regular basis. Gilbert isn't even taken aback by talking about a pimp in a nonchalant way. He just rolled all the way with this one, didn't he?
"Drop It Like It's Hot," which also featured vocals by Pharrell, was a huge hit for Snoop Dogg. The song sat at the top of the US Billboard Hot 100 chart for three weeks, giving Snoop his first chart topper there. It was also his first number one on the Hot R&B/Hip-Hop Songs chart, and was nominated for two Grammy awards in 2005. Winning critical raves for its sparse production, the song charted in the top 10 in several countries, including Australia, Norway, New Zealand and The U.K., and was named the most popular rap song of the decade by Billboard in 2009.
OK, so, let's get down to the nitty gritty here. Who else wants to hear Jeopardy announcer Johnny Gilbert do a full rendition of Snoop Dogg's "Drop It Like It's Hot" for our personal music collections? Alright, you can pretend that it's just me, but we all know I'm not the only one thinking about it.
Bachelor Nation, Gilmore Girl; will Vulcan nerve pinch pretty much anyone if prompted with cheese...Yes, even Jamie Fraser.
Your Daily Blend of Entertainment News
Thank you for signing up to CinemaBlend. You will receive a verification email shortly.
There was a problem. Please refresh the page and try again.