Emerald City Review: New Series Takes The Wizard Of Oz Someplace New And You Might Not Be Ready For It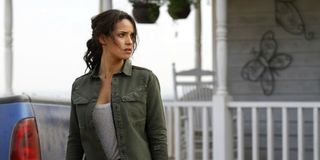 If you're a fan of the original 1939 movie The Wizard of Oz and you're planning to check out NBC's new telling of the story, Emerald City, you should know that you'll be in for something totally different. For good or ill, Emerald City takes more of its story from the 14 Wizard of Oz books that were written by L. Frank Baum, and fans of the movie who've never read those books will hardly recognize the story they find here. Emerald City is a slow burn fantasy series where The Wizard of Oz is filtered through a Game of Thrones lens and viewers might not know what to make of it.
For starters, this Dorothy Gale (Adria Arjona) is not a kid. Our Dorothy is a 20-year-old nurse still living at home with her parents in tiny Lucas, Kansas (population 393). When she tries to make a visit to some recently discovered family, a tornado touches down, of course, and she gets whisked away to the magical and weird as fuck land of Oz, with nothing but the clothes on her back and a police dog (yup, that's our Toto) for a companion. Dorothy is immediately forced to deal with a wildly different world and try to navigate the politics of this new land as she tries to get home.
As anyone who's seen the movie would, you will, naturally, be wondering about the Scarecrow, the Tin Man and the Cowardly Lion. Well, I watched the first few episodes and Dorothy's only non-canine companion is a proto-Scarecrow (Oliver Jackson-Cohen) whom she finds hanging on a cross a few miles from where the tornado deposits her. The man is filthy and covered in straw, and, after she gets him down, Dorothy realizes that he remembers nothing about his life before being strung up. She calls him Lucas, after her home town, and the two take off on the adventure together. Dorothy is trying to get to the Emerald City, with the hopes that the Wizard (Vincent D'Onofrio) can help her get home.
After watching four episodes of Emerald City, I still don't quite know what to make of it. I knew it would be more adult than The Wizard of Oz, but I wasn't expecting real mysteries, murders or subplots that don't (right now, anyway) involve Dorothy. It should also be noted that anyone who's planning to have their little kid watch this show might want to take a step back. Remember when I mentioned Game of Thrones? Well, this show isn't as brutal as the HBO drama, but there is a fair bit more blood and prostitution than what appeared in the movie version of these stories. There's an impaling, some amputations and some nifty burned bodies about, so, yeah, parents of small children beware.
I can compliment Emerald City on a few things. The world is certainly more built up than what you might imagine if you've only seen the movie. There are towns with creepy apothecary owners, Wildling-like tribes, a brothel run by an opium loving Wicked Witch of the West (Ana Ularu), a Glinda (Joely Richardson) who takes in girls (possibly via some dubious means) and teaches them to be the Wizard's counselors and a yellow brick road that's, uh, decidedly not made of gold bricks. You certainly won't be bored discovering all this world has to offer.
Emerald City also looks fantastic. Director Tarsem Singh, who also serves as an executive producer along with series creator Matthew Arnold, David Schulner, Shaun Cassidy and Josh Friedman, was chosen to direct the entire series. Anyone who's seen his work before, in films such as The Cell, The Fall and Immortals, knows that he has a uniquely fantastical style that's perfect for a show like this. The production made an effort to find real world locations that fit the fantasy world they were looking to build, instead of relying on CGI, and it really shows. It also helps to fully immerse the audience in the action.
While both of these things make Emerald City completely watchable, perhaps the best thing about it is the performances of Arjona and Jackson-Cohen. As Dorothy, Arjona is incredibly likable; she makes the character feel like a real woman thrown into an impossible series of situations who is always thinking on her feet and determined to do the right thing. Jackson-Cohen works perfectly as her partner in adventure; he gives the right air of mystery to a character whose past we know nothing about, but still manages to make us feel like we can trust him from the beginning.
Emerald City debuts this Friday at 9 p.m. EST on NBC with a special two-hour premiere. Be sure to check out our midseason premiere schedule to see what else you can watch in the coming weeks.
Your Daily Blend of Entertainment News
Yennefer's apprentice, Gilmore Girl; will Vulcan nerve pinch pretty much anyone if prompted with cheese...Yes, even Jamie Fraser.
Your Daily Blend of Entertainment News
Thank you for signing up to CinemaBlend. You will receive a verification email shortly.
There was a problem. Please refresh the page and try again.