How This Is Us Finally Made Me Cry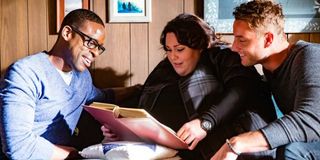 This Is Us has clearly become a major breakout hit for NBC this season, and people love all its heart-tugging, tear-jerking earnestness. In fact, I know several people who actually brag about how much they cry during the episodes, but the show has never gotten to me like that. Until now, that is. I happened upon a repeat of the episode "The Trip," which first aired on November 29. I hadn't seen this particular show when it originally aired, and decided to add to the four episodes I'd watched previously by sticking around for this one. I thought, What's the worst that could happen? Well, it turns out that the worst that could happen was me crying (mostly) alone in the dark over an old episode of This Is Us, courtesy of Randall's inner turmoil. Here's how that damn family drama finally got to me.
First, a little This Is Us background in case you don't know the show. The drama follows the Pearson family: mom and dad Rebecca and Jack, and their kids Kate, Randall and Kevin. The show jumps around in time, and reveals the family's history bit by bit from the early 1980s through the present day. "The Trip" episode mostly featured the, now adult, kids going on one last trip to the family cabin after finding out that Rebecca had decided to put it up for sale. All the kids are going through some personal issues, with Kate having just broken up with her boyfriend, Toby, and Kevin dealing with his feelings for new love Olivia, but the biggest problem of the episode was with Randall.
See, Randall's adopted, and he had wanted to find his birth parents since he was a little kid, but Jack and Rebecca told him they tried and couldn't find them. The truth, as he has just found out before this episode, is that Rebecca actually found out who his biological dad was on the day he was born. Not only that, but she knew, at least for a while, how to get in touch with the man, but never let he and Randall meet. Randall did, eventually, track down his dad, William, and he's now a part of his life, but William has terminal cancer and their time with each other is now very limited. So, as you might imagine, Randall is super duper pissed at Rebecca on this trip to the cabin.
While Kate and Kevin try to enjoy their time at the cabin, Randall is busy packing up his things that were left behind and complaining about how his childhood was a lie. He's actually compiling a list of reasons why he's mad at Rebecca, and, in short, being a last-weekend-at-the-cabin buzzkill. That is, until he accidentally ingests some, apparently very special, mushrooms, thanks to a cabin guest who brought a smoothie-like concoction filled with them. Now, Randall is seeing Jack and talking through all his Rebecca issues with his own personal (sorta) ghost dad.
Mostly, we hear Randall voice, again, how angry he is at Rebecca, but during his talks with 'shroom-induced Jack we also learn that Randall strives for perfection in all things so he wouldn't feel unwanted, as he always sort of had in the Pearson family. Then he tells ghost Jack that they never really wanted him, he was just a replacement baby for the one that they lost.
And, uh, that's what did it, folks. This Is Us finally made me cry when Randall spoke that lifelong fear of his out loud.
Now, I'm proud to say that this wasn't a stirring, cinematic-worthy, ugly, boo-hoo cry. My husband didn't have to ask if I was going to be OK (of course, he'd fallen asleep on the episode several minutes earlier), and my cats didn't have to gather around and offer me tissues as they looked at me like I was insane. You guys, I didn't even know I was crying until tears were literally streaming down my face. Is this how this show works? You think you're just watching TV like a normal person and then, suddenly, you find out that This Is Us has gotten to you in a very real way as your eyeballs leak profusely and you realize that you've probably been crying for a full minute without your knowledge?
I. Was. Stunned. To the point where it made me say out loud to myself, "What the hell am I doing? Crying?!" I recovered quickly, because, even though no one saw me, I was embarrassed. I wiped the tears away and went on with watching the episode, wondering the whole time if I would be coerced into crying again, but I made it through without additional waterworks.
What can I say? This Is Us finally made me cry, and now, every time I watch, I'll be wondering if the show's tear-jerking properties will work on me again.
Yennefer's apprentice, Gilmore Girl; will Vulcan nerve pinch pretty much anyone if prompted with cheese...Yes, even Jamie Fraser.
Your Daily Blend of Entertainment News
Thank you for signing up to CinemaBlend. You will receive a verification email shortly.
There was a problem. Please refresh the page and try again.