10 Best New TV Shows In 2016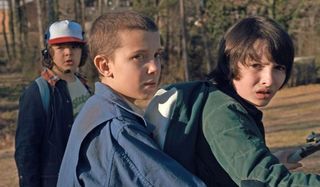 It's known by many that TV is at a point of peak programming, and 2016 offered up many hundreds of different new series for viewers to devote their attention and social media griping to. Every genre was covered, with most subgenres getting attention, and just about every kind of unscripted series also had a freshman debut. While the cream of the crop could have populated a list with 20 or more entries, we had to get serious about whittling it down.
After all the narrative dust had settled, these were the 10 standout series that best represent what 2016 had to offer on the small screen. If you have yet to catch up with anything listed here, fix that before 2017 gets here and brings a different batch of blue ribbon projects.
10. Lethal Weapon
Studios have been hard up for turning movies into TV shows in the past few years, but rather than talk about the flash-in-the-pan failures, it's much more fun to talk about Fox's bomb-in-the-anything reboot of Lethal Weapon. This serialized take on the Richard Donner/Shane Black original is faithful to the general outline of Lethal Weapon's familiar story while not harping on impersonating it, and it's one of the most genuinely fun romps Fox has delivered in years. Lethal Weapon gets extra points for proving the buddy cop action-comedy is not dead, and Clayne Crawford and Damon Wayans' chemistry in the face of chaos makes up for the show's more predictable elements.
9. Better Things
Actress Pamela Adlon has built up a stellar career in the voice-acting world, and her live-action work for Louie and Californication (among other projects) is always top-notch. But she carved out an even higher notch for herself in creating the FX comedy Better Things, a polar opposite to Donna Reed that offers an unfiltered and unflinching look at a woman trying to carve out her own space in a life made more complex by a nosy mother and three unpredictably hectic daughters. Motherhood has rarely looked this unabashedly genuine and empowering on TV, even when Adlon's Sam Fox is haranguing her kids for their rebellious ways. Sucks that it took this long for the spotlight to land on Adlon, but it's worth that wait.
8. Chance
From Black Adder to House to Veep, and plenty of things between, shows with Hugh Laurie in them have a habit of being superb. His first original streaming series, Hulu's dark and intimidation-filled drama Chance, does not even minutely stray from the norm. A clear mind is best going in, but here's the bare bones: Laurie plays neuro-psychiatrist Eldon Chance, whose disassembled family life is harmfully complemented by a colleague's distressed patient (Gretchen Mol), and he finds an unlikely ally in the madness in Ethan Suplee's sage blacksmith who's simply known as D. With a vibe never lacking in mystery or intensity, Chance goes down a stress-inducing downward spiral, with Hugh Laurie's wrinkled brow hanging on for dear life.
7. Stranger Things
When Stranger Things was in development at Netflix (under the name Montauk), I was extremely excited just to see a second horror series on the streaming giant. But little did I know this creepy and spectacular ode to the 1980s would become an instant classic that everyone was talking about far longer than usual for Netflix's binge-ready programming. From the wicked talented cast of youngins to the engaging and well-paced mystery to the nightmarish mythology to the synth-heavy soundtrack, Stranger Things delivered a laundry list of creators Matt and Ross Duffer's inspirations, and they wisely made the effort to avoid just about every hackneyed and ineffective horror trope that has been overused since the 1980s. We want to spend Christmas in Hawkins.
6. The Path
Aaron Paul's post-Breaking Bad career has gone far smoother on the small screen than the big one, and 2016 coupled his BoJack Horseman voice-acting with Hulu's live-action drama The Path, which centers on the "not quite a cult or religion" Meyerist Movement. The growing community is in the temporary hands of Hugh Dancy's secret-keeping Cal Roberts, close friend to Paul's skeptical Eddie Lane and his wholly devoted wife Sarah, played by Michelle Monaghan. Created by playwright Jessica Goldberg, The Path gives equal and equally uncomfortable attention to how Meyerism - largely humanitarian and noble, with some glaring exceptions - affects all dynamics of its followers' lives, from marital strife to teen libidos to spiritual beliefs to small town prejudices and more. And it's all shrounded beneath a veil of mystery and conspiracy.
5. Preacher
One of the most acclaimed comic book series of the modern age, Garth Ennis and Steve Dillon's horror-tinged action-adventure Preacher was astonishingly and exquisitely brought to life for AMC this year by Seth Rogen, Evan Goldberg and Breaking Bad writer/producer Sam Catlin. It was immediately unlike anything else on TV, with its central (and literal) search for God led by Dominic Cooper's Texan preacher Jesse, Ruth Negga's ass-whooping Tulip, and Joseph Gilgun's unhinged vampire Cassidy. The dense story's light exposition, plus the deliberately measured pacing, initially challenged audiences; but once Preacher's kinetic energy began snowballing, it kept going right through that bonkers finale. With ink-black comedy peppering it all, including some bloody and gloriously over-the-top action sequences, Preacher definitely isn't for everyone, but it's everything to many.
4. This Is Us
Network dramas aren't always a source of rampant fandom these days, with cable usually taking the bulk of the critical acclaim (if not overall viewership), but NBC's hit dramedy This Is Us has kept its glowing audiences rapt with attention since its shocking series premiere. The show's multi-faceted appeal all starts with creator Dan Fogelman of Crazy Stupid Love and Galavant fame, who gives the family drama flourishes like two different timelines that are spread out across the country, a rare look at raising a mixed family in the early 1980s, a realistic sibling rivalry, and a sense of humor that feels like it came straight out of one's own home. Plus, there's the super-talented ensemble and the show's ability to turn audience members into tear-soaked marshmallows by the credits.
3. Atlanta
Created by actor and rapper Donald Glover, Atlanta is inarguably the most unique new series of 2016 thanks to its blend of comedy, music, social commentary, weed smoke and Twin Peaks-laced absurdity. Glover's character Earn takes an inadvisable path to success by aiming to manage his buzz-building rapper cousin Paper Boi (Brian Tyree Henry), whose oddball second banana Darius (Keith Stanfield) is rarely far away. Circumstances of all flavors hinder the men from easily achieving happiness, and Earn's endless financial problems also trickle down to his ex (and occasional lover) Vanessa (Zazie Beetz) and their daughter. With humor that can go lowbrow and highbrow in the same delivery, Atlanta is also responsible for some of the most radical and powerful tonal shifts in all of TV this year.
2. The People Vs. O.J. Simpson: American Crime Story
When it was announced Ryan Murphy' anthology drama library on FX would expand with a scripted true crime drama taking on O.J. Simpson's murder trial, visions of American Horror Story's most exploitative scenes danced in our heads. Thankfully, writers Scott Alexander and Larry Karaszewski kept the drama grounded even when the real-life events were at their most heightened, and The People vs. O.J. Simpson: American Crime Story managed to make an oversaturated decades-old crime feel as fresh as anything else in pop culture. The star-studded cast is also guilty of making things so successful, with acclaimed performances coming from Sarah Paulson, John Travolta, Cuba Gooding Jr., Courtney B. Vance, Sterling K. Brown, etc. All future true crime projects should hold People vs. O.J. Simpson up as inspiration.
1. Westworld
With a whole lot of anticipation built into its extended development period, Westworld finally debuted in October and lived up to its HBO home with an increasingly labyrinthine and thought-provoking narrative centering on the evolving relationship between humans and artificially intelligent "hosts" at the titular theme park. Its stacked cast led largely by Evan Rachel Wood, Ed Harris, Thandie Newton and Anthony Hopkins, Westworld exponentially expands upon the original Michael Crichton film in every way, deepening its themes of consciousness and humanity and chaos and storytelling. Creators Jonathan Nolan and Lisa Joy also layered the story's myriad mysteries and surprises so that extremely attentive viewers have a leg up over passive audience members where certain plot mechanics are concerned. Not only the best freshman series of 2016, Westworld will likely find itself atop many Top 10 lists of all kinds in the next month.
Here are a handful of honorable mentions that came as close as possible to making the Top 10 without committing a crime in order to gain entry.
Luke Cage
Full Frontal with Samantha Bee
Channel Zero: Candle Cove
Designated Survivor
Vice Principals
Your Daily Blend of Entertainment News
Assistant Managing Editor
Nick is a Cajun Country native, and is often asked why he doesn't sound like that's the case. His love for his wife and daughters is almost equaled by his love of gasp-for-breath laughter and gasp-for-breath horror. A lifetime spent in the vicinity of a television screen led to his current dream job, as well as his knowledge of too many TV themes and ad jingles.
Your Daily Blend of Entertainment News
Thank you for signing up to CinemaBlend. You will receive a verification email shortly.
There was a problem. Please refresh the page and try again.