5 Reasons John Wick Deserves A TV Series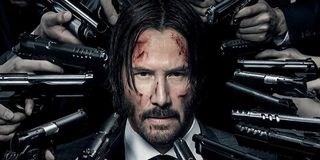 Yeah, we're thinking he's back! After almost two and a half years of eager anticipation, John Wick finally returned to theaters this weekend for John Wick: Chapter 2, and the sequel has completely recaptured the magic of the original. Chapter 2 is violent, it's stylish, and it's a ton of fun. Honestly, the future has never looked brighter for this dark and brooding silver screen anti-hero.
In fact, while John Wick: Chapter 2 has only been out in theaters for a few days, the folks behind the franchise have already started talking about a possible John Wick prequel TV series. Nothing has received any confirmation yet, but a serialized project centering on the earlier days of Mr. Wick's career sounds like one of the coolest developments that we have heard all year. On that note, we've compiled a list of specific reasons why the John Wick series could totally work as a TV show. We have plenty of arguments to get to, but let's kick this off with one of the most important reasons: the action.
John Wick's Heavy Violence Is Now Possible On TV
While there was certainly a time when hardcore, R-rated violence was hard to find on the small screen, that era has passed. John Wick is as violent as contemporary action franchises get, but it still arguably doesn't even come close to the carnage that we can now regularly see on television. Shows like Daredevil and Game of Thrones have fundamentally changed the game in regards to the type of hard-hitting content that we can now witness on cable or streaming TV, and they have in many ways paved the way for an R-rated series like John Wick to make a seamless transition. We probably wouldn't see John Wick on a traditional broadcast network, but HBO, AMC, or a streaming service like Netflix all seem like fair game. Let's keep the blood flowing and the body count high.
The Size Of The World Is Perfect For Serialized Arcs
The John Wick films have built a phenomenally complex world that fans love to immerse themselves in, but the big screen medium is arguably the most significant limiting factor for this story. We can only go so deep into the John Wick universe over the course of a two-hour movie, but a serialized TV series presents nearly infinite potential to examine The Continental, the rules and customs of this criminal underworld, and even the bizarre economy that runs it. The John Wick mythos is one of the most profoundly realized and fleshed out fictional universes ever depicted in live-action, so embracing a medium that allows the filmmakers to go even deeper seems like the most logical course of action. What other services can John buy with those gold coins?
There's Plenty Of Backstory To Mine
The last two John Wick films have done a remarkable job of hinting at specific events within John's backstory without ever actually giving audiences too much information. By its very nature, a prequel series could take those basic hints and run with them in a way that feels logical and respectful to what we already know. What was John's "impossible task" to get out of his life of crime? Where did John learn his lethal skills? How did he meet Helen (Bridget Moynahan), and how did her influence on his life convince him to give up his life as an assassin? These are all elements of John Wick's backstory that are completely worth examining, and a TV series is the best opportunity to give these ideas the attention that they deserve.
A John Wick Show Wouldn't Need A Big Budget
Over the course of the last two movies, the John Wick franchise has become a masterclass in action filmmaking on a relatively small budget. The first film came together on a shoestring budget of $20 million, and the sequel doubled that figure to $40 million. While that kind of money is obviously nothing to scoff at, it's worth noting that a single episode of Game of Thrones costs around $6 million to produce, and that adds up over a single season. A John Wick series wouldn't necessarily be very taxing in terms of production design, or even special effects, so it seems entirely possible that the crew behind the possible TV project could easily continue this trend of thrifty filmmaking if they make the jump to the small screen.
Keanu Reeves Isn't Too Big For Television
Most rumors associated with the potential John Wick TV series seem to point to it taking the form of a prequel. That said, it's worth mentioning the fact that Keanu Reeves isn't too big for a TV show. Reeves has been less active as an actor in recent years, and it's abundantly clear that the John Wick series is a passion project for him. Even if his contemporary depiction of the stone cold assassin isn't the focus of the series, we don't think it's outside the realm of possibility for Johnny Utah to return at some point so we can check in with the more seasoned and jaded version of Mr. Wick. That would represent a perfect way to tie everything together and move the film continuity forward neatly.
While we wait to find out what shows get picked up for next season, take a look at what TV has coming up with our midseason TV premiere schedule.
Your Daily Blend of Entertainment News
Originally from Connecticut, Conner grew up in San Diego and graduated from Chapman University in 2014. He now lives in Los Angeles working in and around the entertainment industry and can mostly be found binging horror movies and chugging coffee.