Arrow Just Revealed A Major Hero's Backstory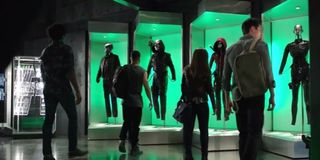 Warning: MAJOR spoilers ahead for tonight's episode of Arrow. Don't read any further if you haven't seen "Spectre of the Gun" yet.
In Arrow's fifth season, we have seen a clear emotional demarcation line develop between the two sides of Team Arrow. The "OG Team Arrow" has regularly hogged the spotlight, while the newbies have more or less felt somewhat relegated to the status of simple side characters. That changed in a major way tonight with "Spectre of the Gun," as Rene "Wild Dog" Ramirez's heartbreaking past took center stage in the episode's flashbacks. Rene may be a tough guy, but he has lost far more than we ever realized.
First, let's get up to speed. "Spectre of the Gun" focused its story on a lone gunman instigating mass shootings all across Star City, as well as Team Arrow's struggle to bring him to justice. Mirroring the gun violence theme of the episode, the flashbacks shifted away from Oliver's time overseas to focus on the turbulent family life of Rene before his life as a superhero. Rene's wife was a drug addict, and the episode slowly revealed a night in which her dealer showed up at the Ramirez home to make good on a debt that she owed him.
While Rene managed to kill the dealer with a gun hidden in his house, his wife ultimately died in the crossfire -- which led the state to take away Rene's daughter. The final moments of the flashback showed Rene (at his lowest point) watching a news report of Green Arrow taking down Damien Darhk in May 2016, which ultimately inspired him to become the vigilante known as Wild Dog.
Wild Dog was clearly the hardest sell for Oliver Queen when it came to new Team Arrow recruits at the beginning of this season, and we're starting to see why. This episode (as well as last week's episode, which shed more light into Rene's rough childhood) shows that the series has begun to peel away Wild Dog's layers and showcase the strength and trauma that he is hiding underneath his (admittedly douchey at times) demeanor. He was a difficult guy to like at first, but it is becoming increasingly clear that he could potentially be the last recruit standing when Season 5 draws to a close.
Tonight's episode of Arrow also deserves special credit for the way in which it took a relatively even-handed approach towards the issues it tackled. There's no discussing "Spectre of the Gun" without addressing the elephant in the room: this was an episode aimed squarely at the highly polarized matter of gun control and gun violence. Despite the underlying message of sensible gun reform and gun control laws, the episode still found time to make a relatively valid case for (responsible) gun ownership and used Rene as a proxy to convey that message. The episode had a clear agenda, but it handled that agenda in a diplomatic way.
What did you think of "Spectre of the Gun?" Do you like the direction Arrow is going with Wild Dog? Let us know what you think in the comments section below!
Arrow airs every Wednesday night at 8 p.m. EST on The CW. For more information related to all of the most highly anticipated spring television debuts, make sure to check out our comprehensive midseason premiere guide!
Originally from Connecticut, Conner grew up in San Diego and graduated from Chapman University in 2014. He now lives in Los Angeles working in and around the entertainment industry and can mostly be found binging horror movies and chugging coffee.
Your Daily Blend of Entertainment News
Thank you for signing up to CinemaBlend. You will receive a verification email shortly.
There was a problem. Please refresh the page and try again.