How The Arrow Season Finale Took Care Of Damien Darhk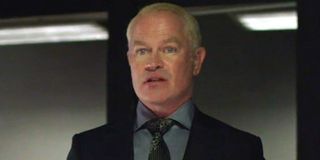 Warning: Spoilers ahead for the Season 4 finale of Arrow.
Well, it looks like the good folks of Team Arrow finally managed to defeat the nefarious plans of Damien Darhk. After a full season of battling Darhk and his, um, dark magic, the team came out with the upper hand tonight. It wasn't easy, though, so let's take a little look at how they got there.
The action picked up where we left off last week, with Darhk invading Felicity's loft and trying to make our favorite hacker/business woman/Ollie-lover help him get those nukes in the air. He, of course, threatened her mom and came close to stealing her life force, but was stopped by Oliver. The two fought as his ghosts battled the rest of the team, with Darhk beginning to drain Oliver's life, until Thea put an end to that shit, brought Darhk's daughter in and was all "let him go or I'll kill her," with a knife to the girl's throat. Darhk complied and took off, but not before making sure the place was flash bombed so he could steal the one computer that had all of the Rubicon nuke codes on it. Dammit.
In the aftermath, we find out that Oliver couldn't fight Darhk with his own, slight, hope magic anymore because he was even more super charged from the deaths of all the innocent people who succumbed to his first nuke blast. Lyla tried to put an end to Darhk by sending an Argus team to the magic nexus chamber under city hall, but they all died horribly, giving him even more death magic to use. Then, as Felicity was about to break through and regain control of Rubicon, the inevitable happened: Darhk's minions broke into the team's lair, damn near killed everyone and tore the place all to hell.
It's not long before the final battle ensues. Knowing that there's a nuke headed straight for them, the people of Star City are, understandably, going apeshit. But, when Oliver and Darhk's fight in the nexus comes above ground, the folks stand with Arrow. Diggle, Thea, Quentin, Lyla and the good people of Star City took on a major army of Darhk's ghosts in the middle of the city streets and were actually able to come out of that confrontation alive. And, finally, finally, finally, Oliver and Darhk had the showdown that we've all been waiting for.
With the people of Star City throwing their combined hope into the fight, Oliver suddenly regained the power he needed, while Darhk's death magic failed him. The two went at it hand-to-hand combat style, with Oliver getting in just enough punches to take control of their fight. And, that's when it happened, everyone. Oliver took an arrow in his hand, and stabbed Damien Darhk in the gut, just like Darhk did with Laurel. On the nuke front, Felicity and Curtis were able to stop all 15,000 nukes that were set to go off around the world by diverting them all into space.
Well, it was an action packed finale, but I have one question. Is Darhk really dead? I mean, sure, he's dead enough for now, but what if his magical essence is still out there somewhere, like, hiding in a power nexus or a magical ley line? When you think a dude like Damien Darhk is dead, you don't just leave his body in the street, all kinds of magical shenanigans can be done with a person's body. No, you need to salt it and burn it, and then salt the ashes and burn them in another location. I suppose time will tell if Darhk is as dead as we all need him to be. Until Arrow returns in the fall, you can keep yourself busy with our summer TV premiere schedule.
Your Daily Blend of Entertainment News
Yennefer's apprentice, Gilmore Girl; will Vulcan nerve pinch pretty much anyone if prompted with cheese...Yes, even Jamie Fraser.
Your Daily Blend of Entertainment News
Thank you for signing up to CinemaBlend. You will receive a verification email shortly.
There was a problem. Please refresh the page and try again.