A Brazilian Show Mistakenly Aired A Butthole On TV, See The NSFW Video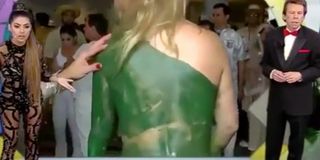 If you aren't interested in graphic nudity or you are at work or any other place where it might be inappropriate to watch a video with nudity in it, please note that this footage is NSFW. It's also remarkably graphic. So don't look down if you aren't ok with seeing a woman's butthole. Because this video has body paint but little else covering it. You have been warned.
In the United States, catching nudity on TV programs is generally reserved for the late night cable and subscription cable varieties. In Brazil, however, some footage of a model wearing only body paint was shown live on Brazilian TV. That footage included the model, reported to be Ju Isen, turning around and giving us an extremely graphic view of her backside. Again, there's about to be body paint-covered butthole, so please check out one of our other articles if this is not something you are interested in seeing.
"
Rede TV was looking at footage from Brazilian Carnaval which was running over the weekend in Rio de Janeiro. Clothing and costumes can be pretty wild during Carnaval, as is also shown by the partially sheer body suit the TV hostess herself is wearing. Body paint is also common, but it's far less common for someone to simply do a squat and expose their underside. I guess you never realize how exposed you are until you are that exposed.
Carnaval, or Carnival in English, is the most famous holiday in Brazil. It is noted for its intense costumes and festivities, with appropriate dress often including skimpy clothing, along with beads, sequins and feathers. At best, it's not exactly family-friendly. Body paint is another component of this, but there's a difference between seeing a woman covering her lady parts with paint and the camera getting up close and personal. In the States, that would be more suited to late night HBO than a news type of broadcast focusing on a current event.
However, it's not like news broadcasts in the States are somehow better about avoiding mistakes than Brazilian broadcasts. We've seen local news broadcasts have to deal when someone on the back end accidentally aired a shot of a penis instead of regular broadcast footage. Other snafus have included accidentally airing explicit clips and more. Of course, this is still among the most graphic things we've ever seen accidentally air on TV.
If you'd like to take a look at the very much non-nude stuff airing on regular TV in the coming weeks, do take a look at our midseason TV premiere schedule.
Your Daily Blend of Entertainment News
Reality TV fan with a pinch of Disney fairy dust thrown in. Theme park junkie. If you've created a rom-com I've probably watched it.
Your Daily Blend of Entertainment News
Thank you for signing up to CinemaBlend. You will receive a verification email shortly.
There was a problem. Please refresh the page and try again.